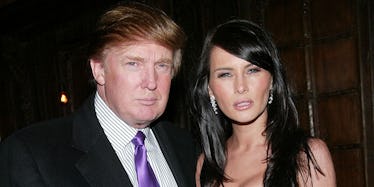 The Story Of How Donald And Melania Trump Met And Started Dating Is So Fitting
Agostini/Getty Images
The year was 1998.
A 52-year-old Donald Trump had been separated from his second wife, Marla Maples, for about year.
Simultaneously, the real estate mogul was rumored to have been dating Celina Midelfart, a Norwegian business heiress in her mid-20s who had been renting an apartment in Trump Tower while studying at NYU.
In September of that year, Trump attended a New York Fashion Week party at Manhattan's Kit Kat Club, near Times Square.
Inside the venue, the question of whether or not he had been dating another woman mattered none, particularly when he saw Melania Knauss.
Trump described the moment in a 2005 interview with Larry King, saying,
I went crazy. I was actually supposed to meet somebody else. There was this great supermodel sitting next to Melania. I was supposed to meet this supermodel. They said: Look, there's so and so. I said: Forget about her. Who is the one on the left? And it was Melania.
Knauss, then 28 years old, had arrived in New York two years earlier. She would later tell Greta Van Susteren that she had been invited to the Kit Kat Club by the organizer of the party.
That organizer was Italian entrepreneur Paolo Zampolli, who decided to throw the event for his modeling agency, ID Models. Zampoli had "discovered" Knauss, the New York Times reports, and even secured a visa for her to enter the United States. Zampoli would be the one who introduced her to Trump, the Times, says. Eventually, Trump would ask for her contact information.
Zampoli would be the one who introduced her to Trump, the Times, says. Eventually, Trump would ask for her contact information.
On the moment he asked, Melania Trump told Harper's Bazaar,
He wanted my number, but he was with a date, so of course I didn't give it to him. I said, 'I am not giving you my number; you give me yours, and I will call you.' I wanted to see what kind of number he would give me — if it was a business number, what is this? I'm not doing business with you.
Trump would then impress her by giving up the numbers to his various properties. She said,
The office, Mar-a-Lago, home in New York, everything.
For the couple's first date, Trump took Melania out for dinner and then to Moomba, a hot spot for A-list celebrities which, according to the New York Times, didn't book reservations past 7:30 PM, unless it was for famous people.
A month after the initial meeting at the Kit Kat Club, Trump flew Melania out with him on his private jet for a weekend in Palm Beach, the New York Post reports.
A friend of Melania Trump would later tell the Post,
She ran into Donald just at the right time. She was just about out of money, at the end of her rope and about to move back to Eastern Europe.
Melania Trump is definitely not in Eastern Europe now. Seven years after meeting Donald Trump, the couple married. More than a decade after that, she became first lady of the United States and, after months of delay, moved into the White House.