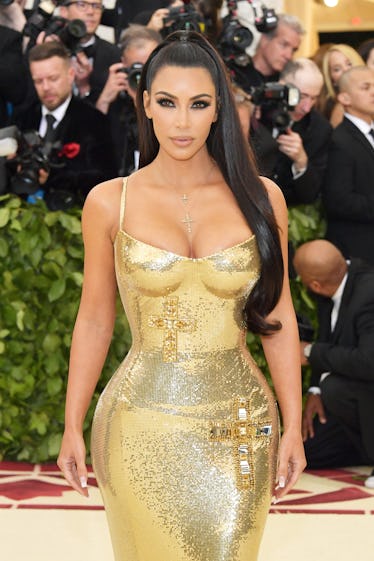 Kim Kardashian Is Dripping In Gold Perfection At The Met Gala & I Can't Look Away
Neilson Barnard/Getty Images Entertainment/Getty Images
Kim Kardashian walked the Met Gala red carpet sans hubby last year, but recent events prove more than ever that Kimye are ride or die for each other. However, Mrs. West stepped out on the carpet Monday, without Kanye again. And TBH, I don't miss him one bit, but mostly because Kim Kardashian's 2018 Met Gala Look is liquid gold. Ahead is a walk down memory lane of Kim's (and Kanye's) best Met Gala looks.
2016 "Manus x Machina: Fashion in an Age of Technology"
Given their longstanding friendship with Olivier Rousteing, the duo dressed in matching Balmain. Kardashian wore a long-sleeve, floor-length gown that resembled a suit of armor, with a thigh-high slit that showed off her toned legs and silver heels. Kim finished her look with a single climbing ear cuff and futuristic hair and makeup. She wore her hair wet and slicked straight back, then paired her dark smokey eye with barely-there brows.
In a complete contrast to his wife's look, West wore ripped light-wash jeans, a T-shirt and suede boots. To match the theme of Manus x Machina: Fashion in an Age of Technology, he threw on a crystal-encrusted denim jacket. Oh, and you can't forget Kanye's blue contact lenses — or were they green?
2015 "China: Through the Looking Glass"
Kim and Kanye were one of the last celebs to arrive at the Met Gala in 2015, but they were worth the wait. Kim stunned in an invisible dress embellished with intricate beading and a train of feathers. To complement her high neckline and shoulder pads, Kardashian wore her hair slicked back (I love when she does that). Kanye ditched his denim for the night and opted for a black-on-black velvet suit.
2014 "Charles James: Beyond Fashion"
Kimye looked like Hollywood royalty when they attended the Met Gala in 2014. Kim wore a dark blue stunner, while Kanye wore a tuxedo with a statement jacket tail. Don't let Mr. West's unimpressed expression, we're sure he was stoked to have the gorgeous Kardashian on his arm.
2013 "Punk: Chaos to Couture"
By far the most popular look of all, the Kim's head-to-toe rose print set the internet on fire. All I remember is waking up the next morning to hilarious memes spoofing Kim's bold outfit choice. What I love is baby bump or not, Kim's all about her thigh-high slit, and I can respect that.
2018 "Heavenly Bodies: Fashion and the Catholic Imagination"
Kim absolutely stunned in a gold sequin Versace dress that paid subtle homage to the Catholic religion with inconspicuous crosses on her waist and hips, as well as around her neck on two dainty necklaces. The column dress showed off her figure and elongated her petite stature making her look incredibly regal.
To finish off her look, Kim K kept hair simple and pulled out of her face in a high half-up ponytail that showed off her long waist-length locks. As for her makeup, the focus was kept on the eyes. She rocked her signature contour, nude lip, impeccably groomed brows and paired them with a dark eye and tons of lashes. Giving her eyes a feline feel, her go-to makeup man Mario Dedivanovic used a black eyeliner to line the entire eye and create a cat eye. To further elongate the eyes, he created a wing on the inner corners, which gave Kardashian an even-more exotic look.
The way I see it, Kim deserved her solo moment in the spotlight — a look like this deserved to take center stage. Honestly, a date would've just been a distraction. And there's a lesson to all you beauties out there: A man doesn't complete you, your cat eye does.
This article was originally published on