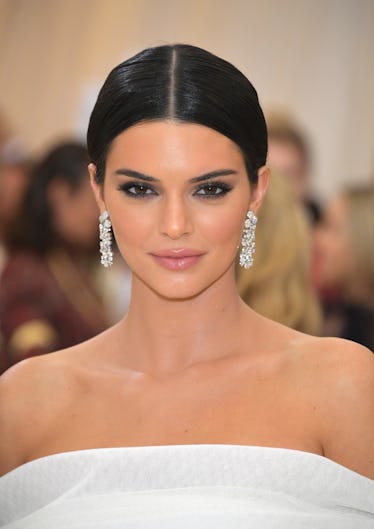 Kendall Jenner's Met Gala Look Is Channeling Kim K & You Need To See It
Neilson Barnard/Getty Images Entertainment/Getty Images
Tonight, I would argue, is bound to be better than all of the fashion weeks combined. Celebrities, designers, models, and the like will be bringing out their most outrageous and innovative looks and treating the red carpet like their own, no-rules runway. Kendall Jenner's 2018 Met Gala look is one such outfit. Based on what the model has worn to the event over the past, it was expected that she would bring the super sexy and sleek drama. But seeing as this year's theme is "Heavenly Bodies: Fashion and the Catholic Imagination," I was especially interested to see what she'd show up in.
To walk you through her M.O. in terms of Met Gala style, let's start back in 2014 when she first walked the red carpet at the event. She arrived in a dazzling diamond choker and beautiful silk gown by Topshop, looking all kinds of old Hollywood glam. The dress featured a strapless neckline and mermaid silhouette and, though not super creatively progressive like the best of Met Gala looks, was a stunner nonetheless. And considering the theme was "Charles James: Beyond Fashion" (Charles James was a famous couturier known for his sumptuous gowns), the dress was spot-on.
From there, Jenner continued to consistently arrive to the event looking every part the top model she's become in gorgeous floor-skimming gowns. In 2015, she wore an absolutely brilliant creation by Calvin Klein. Emerald green, it glittered with crystals and featured lace-up sides — she was on fire.
In 2016, her Atelier Versace was again ultra sexy but decidedly sophisticated. White, with blue insets and large side cutouts, it looked super tech-forward and fresh. Considering the theme was "Manus x Machina: Fashion in an Age of Technology," it was extremely fitting.
Last year certainly brought Jenners' most daring dress yet, but not in the way typical to the Met Gala. She arrived in a creation by lingerie brand La Perla, which in itself was a unique move. (She'd started working with the brand around that time.) Black, sheer, and with a giant cutout slashed across its bodice, it was super sexy and architecturally alluring. The black sheer fabric that reached to her feet glittered and shined in the spotlight, while the red bottoms of her Louboutin shoes added a pop of red as Jenner walked up the stairs.
This year, Jenner went in a decidedly different direction. As in, a pants direction. While understated, the look boasts small design details that make you do a double, then triple take. Featuring white flared pants, a white off-the-shoulder corset top, and long white gloves, it's at once romantic and edgy, glamorous and inventive. Seeing as wunderkind Virgil Abloh, who is the brains behind Off-White and was recently named artistic director of Louis Vuitton menswear, designed the look, its ambiguous appeal makes sense.
In terms of it fitting the theme, however, the look misses the mark. The only reference to the theme that I can think of within the outfit is the fact that white holds a strong symbolic meaning within Catholicism. The color represents purity, goodness, innocence, and the opposite of evil. Perhaps Abloh and Jenner wanted to take the theme in a more nuanced direction via color? Regardless, Jenner accessorized the look brilliantly with an exquisite pair of diamond earrings.
And let us not ignore the elephant in the room, which is that the look definitely calls Kim Kardashian West's 2017 Met Gala dress to mind. An off-the-shoulder white gown with long sheer sleeves, it was certainly similar to what Jenner wore tonight.
Sisters who slay together, stay together, right?