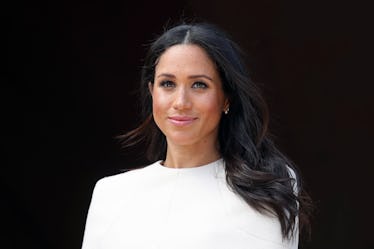 This Makeup Artist's Transformation Into Meghan Markle Is Spot On, Even Down To The Freckles
Chris Jackson/Getty Images Entertainment/Getty Images
Meghan Markle has two official royal titles: Her Royal Highness The Duchess of Sussex, and of course, Her Royal Highness The Queen of Natural Glam. When Markle's wedding day look was broadcasted virtually everywhere just last month, the beauty community took note, and makeup lovers everywhere started swapping Instagram brows for lightly penciled-on freckles (or, if you were naturally blessed, showcasing the real thing). While many have posted their own interpretations of Markle's look — and believe me, I've bookmarked them all — Promise Tamang's Meghan Markle makeup tutorial might have the others beat.
If you're not familiar with the YouTube star, Tamang's impressive makeup transformations have earned her a cool 5.2 million followers on her YouTube channel, as well as 1.2 million on Instagram. She's transformed into everyone and everything, from a spot-on Selena Gomez to an eerily accurate Bratz doll, and tells her Instagram followers that, when it came to tackling Markle's look, she "had to do it because it was highly requested."
If you're not a Meghan Markle fan, know that I'm silently judging you, but know also that Tamang's video can still come in handy for you. The glam itself features some seriously stunning, no-makeup makeup vibes: glowy skin, light coverage, her signature freckles, and a sultry-yet-royalty-approved dark smokey eye. While many come to Tamang's channel purely to see her unbelievable transformational skills, her videos can also be followed as tutorials to create a similar look at home. However, it's not likely you'll be altering your face shape via wax to imitate Markle's own, so you can skip that part of the video, unless you're really feeling extra.
Aside from a Markle-ified nose sculpted from wax, Tamang uses a ton of accessible beauty faves for the bridal recreation. For the base, she applies the Wunder2 Last & Found[ation] ($29.95, wunder2.com), which claims to be long-wearing and waterproof, making it a good choice for brides IRL, too. For Markle's smokey eye, Tamang goes in with taupe, dark brown, and black shadows from the Charlotte Tilbury Instant Eye Palette ($75, Charlotte Tilbury). This palette is currently sold out, but brand's The Sophisticate quad ($53, Charlotte Tilbury) has some similar shades for channeling Markle's look. For the freckles, she uses the NYX Auto Eyebrow Pencil ($4, NYX Cosmetics), and instead of slathering on a heavy liquid lipstick — the Duchess would never — Tamang fills in her lips using a nude Urban Decay 24/7 Glide-On Lip Pencil ($20, Urban Decay) and tops them off with the Em Cosmetics True Gloss in the shade "Secret Blush" ($17, Em Cosmetics).
The under-five-minute video packs in a ton of tips for both applying great makeup and channeling Markle herself, the most notable of which being Tamang's approach to creating faux freckles that look natural. Rather than stamping on polka dots or drawing small circles, she recommends applying a brow pencil with a light press-and-twist motion you'll need to practice to perfect.
Since posting the video on June 14, it's gotten over 358,000 views and counting. And while the transformation is a satisfying enough end, Tamang treats us to get another OMG moment: Her stand-in "red-headed prince" is none other than a Pomeranian named Chewie. I'm swooning.
As far as Tamang's videos go, this transformation is fairly tame. I mean, she literally transformed into her dog: fur, prosthetics, and all. She was also a pioneer of the notorious squiggle brow trend, so we know this girl doesn't shy away from a wild look. That said, the final result is both gorgeous and and accurate, and in a quick scroll through my Instagram feed, I mistakenly assumed a screenshot from Tamang's video was a pic of the Duchess herself before taking a second look.
Watch the whole video below to see Tamang's complete Meghan Markle wedding look. She's also done beauty transformations for some other very famous royals, including Belle from Beauty and the Beast and Princess Fiona from Shrek, so it looks like Markle is in good company.
This article was originally published on