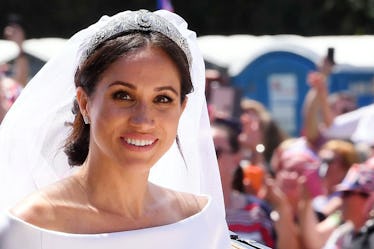 People Love Meghan Markle's Freckles So Much, They're Getting Actual Freckle Tattoos
David Fisher/REX/Shutterstock
Leave it to Meghan Markle to not only be the leading trendsetter in the hair, makeup, skincare, style, and even the wedding dress categories, but also in the tattoo scene. While Markle hasn't revealed any actual, permanent ink on her body, she has still managed to inspire a growing trend that even tattoo artists are beginning to notice: freckles. Yes, believe it or not, Meghan Markle's natural freckles are reportedly inspiring people without the natural spots to permanently ink some on their face.
No, the fake freckle trend didn't come out of nowhere. Minimalist brands like Glossier have long promoted a "less is more" and "skin first" mindset when it comes to beauty. And for the past few years, more and more people have embraced a natural approach to the appearance of skin, welcoming the look of freckles rather than being so quick to cover them up.
However, everyone's skin is completely different in its natural state, and not all of us are born with freckles. Still, it seems a freckled version of the "natural beauty look" (whatever that actually means) has become so coveted, many have attempted to hop on the bandwagon through, well, unnatural means, using various makeup products to create a subtle layer of faux freckles across their noses. Now, though, more people are resorting to permanent measures.
If you look closely at the now-royal Meghan Markle, both on her wedding day and in her more recent appearances, you'll notice that her freckles almost always show through on her skin, despite whatever complexion products she might be wearing. According to Allure and Markle's former makeup artist, Lydia Sellers, Markle adores Armani Luminous Silk Foundation ($64, bergdorfgoodman.com) because it still allows her natural freckles to show.
Now that the public has been exposed to Markle even more, it seems her approach to her skin is inspiring people to literally tattoo freckles on their faces to create the illusion of au natural, sun-kissed skin. One tattoo artist based in Atlanta, Gabrielle Rainbow, told New Beauty that she had been "crazy busy" following the royal wedding and that the event may have "boosted customers' interest in the whole idea of freckles."
Cosmetic tattoos are one of Rainbow's areas of expertise, and the artist has made it clear that, despite her freckle tattoos being semi-permanent, freckle tattoos in general shouldn't be taken lightly. "I think cosmetic tattooing or permanent makeup is really on the rise, and obviously with any trend, you will have people who will want to take advantage of that," she told New Beauty. "Because this is your face, it's important that you do your research and find artists who aren't afraid to show their portfolio and healed work. Even if this is 'semipermanent,' there are risks, such as technicians who will go too deep or not use the proper inks."
Rainbow posted a photo on Instagram featuring one of her clients who received the cosmetic freckles tattoo. Rainbow said in the caption that this photo had been snapped two days after the procedure, and the freckles "will last about 2 years, and will soften up and look more natural when they are healed."
As I briefly mentioned before, tattoos aren't the only way people without freckles are achieving the look. There are far easier, less permanent ways to create faux frecks (as I lovingly call them), involving something as simple as eyebrow powder.
DJ Chantel Jeffries, low-key master of fake freckles, revealed to Allure how she creates the most natural-looking freckles. "I see a lot of people doing it with eyebrow pencils or eyeliner, and you can tell that it doesn't look real. But the way that I do it, everybody gets so confused and can't believe they're fake," she told the publication. "I use the coarse bristles of my eyebrow brush to gather some brown powder in the same color I use for my eyebrows. Then I tap the brush to sprinkle little dots of powder randomly over my nose."
She continued that she also sets this powder with a stippling brush — the same one she uses to apply foundation. "I take the stippling brush that I also use for my foundation and tap the powder to set the freckles in place," she said. "I don't clean the brush before in order to give the powder a little bit of coverage with the remaining foundation. I go over the freckles so it looks like there's makeup on them."
It's important to remember that even if you don't have freckles, your natural skin is still f*cking great. And if you do have freckles? Welp, you can say you were ahead of the trend.
Now, what else about Meghan Markle will go viral next?