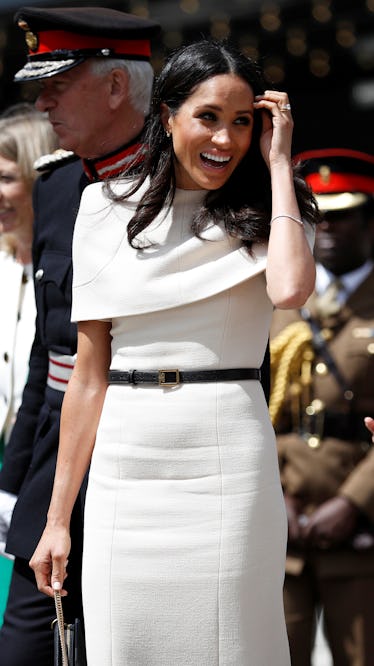 Here's How Meghan Markle's Style Has Changed Over The Years & I'm In Awe
WPA Pool/Getty Images Entertainment/Getty Images
From first entering the public eye as an actress over a decade ago to becoming the most recent addition to the British Royal Family, Meghan Markle's style has changed quite a lot. Making her way into the public eye back in 2006, Markle first entered our TV screens regularly as a suitcase model for Deal or No Deal. While the game show, hosted by Howie Mandel, aired, the former actress wore a low-cut, above-the-knee dress on show nights. And while she looked fab, she shared with Esquire back in 2013 that it wasn't exactly her favorite or most-loved role.
"I would put that in the category of things I was doing while I was auditioning to try to make ends meet," Markle confessed. "I went from working in the U.S. Embassy in Argentina to ending up on Deal. It's run the gamut. Definitely working on Deal or No Deal was a learning experience, and it helped me to understand what I would rather be doing. So if that's a way for me to gloss over that subject, then I will happily shift gears into something else."
So I guess it's safe to say this job wasn't royally perfect for this royal.
"I would end up standing up there forever in these terribly uncomfortable and inexpensive five-inch heels just waiting for someone to pick my number so I could go and sit down," she added.
Needless to say, she's come a long way since her primetime game show days — and even her Suits days. And while her fashion choices have definitely evolved with the seasons, Markle's style has pretty much stayed the same — simple, classic, and chic.
Let's take a look back at her style evolution.
2009
Attending the DPA pre-Emmy Gift Lounge at the Peninsula Hotel in sunny Los Angeles, the future Duchess of Sussex kept it simple by opting for sandals rather than heels, a Louis Vuitton Speedy in Damier Ebene print, an all black outfit, and aviators. True-to-form, the former Suits star wore her hair down in a straight, sleek style. She accessorized the look by wearing subtle gold necklaces, with chunkier bracelets and bold rings.
2012
About one year after Suits first aired, it's clear Markle's style had already evolved. Attending USA network's and The Moth's Storytelling Tour premiere at the Pacific Design Center, Markle wore an above-the-knee, fitted, lacy, navy blue dress with three-quarter length sleeves. She paired the dress with nude pumps, chunky gold jewelry, and her former wedding band from her marriage to film producer Trevor Engelson.
2013
Making her way down yet another USA network carpet, Markle looked so chic at the Upfront event at Pier 36 in New York City. Here, she's wearing a printed white and navy shift dress, with cap sleeves and silver embellishments. She opted for black Christian Louboutin pumps and a stand-out black and silver bracelet.
2015
Wearing an all-white ensemble, the now-36-year-old attended the NBC New York summer press day in 2015 looking trendier than ever. Since her wide leg pants and see-through top made quite a statement, Markle kept her accessories simple by only wearing a few subtle rings and a bracelet. Her voluminous hair had a few deep red highlights at the time and was styled into soft beach waves.
2016
A few months before her relationship with now-husband Prince Harry was announced, Markle was at the 25-year anniversary of P.S. ARTS in L.A. For the event, she wore blue shorts and a matching blazer, paired with pointy black pumps and a button-down white shirt.
2017
After making it official with her new beau, Markle had to take on some new fashion rules fit for a princess, as the pair announced their engagement in November 2017. Wearing a Line the Label white coat, cream Aquazzura pumps, and of course, her custom-made engagement ring, she looked absolutely dashing.
2018
Just married, and looking blissfully in love, Markle posed with her new husband on their wedding day, May 19, 2018, wearing a custom Givenchy gown with a boat neckline and sleek, classic silhouette for the historic afternoon.
2018
On her first official solo trip with Queen Elizabeth II, the former actress wore a cream Givenchy pencil dress, with a black and gold belt and a cape top with a rather interesting silhouette. She paired the stunning dress with black pumps and a black Givenchy clutch.
2018
It seems Markle's most recent royal look, a calf-length, bright yellow Brandon Maxwell dress, is the most stand-out color she's worn as a royal yet. Paired only with nude, pointed Manolo Blahnik pumps, tiny earrings, and her wedding band, Markle made sure to let this bright color shine for itself.
There's no telling what kind of looks the Duchess of Sussex will grace us with next, but if anything, they'll surely follow Markle's tradition of being on-trend and classic at the same time.