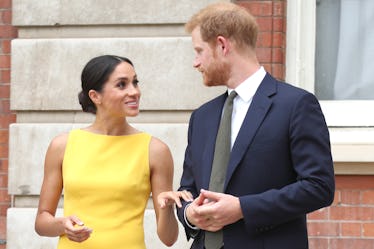 Meghan Markle Shined In This Yellow Dress & Prince Harry Couldn't Keep His Eyes Off Her
WPA Pool/Getty Images Entertainment/Getty Images
Now that Meghan Markle is married to Prince Harry, the public is enamored with the Duchess of Sussex's every move. More specifically, Markle's outfit choices are at the top of everyone's need-to-know list. Of course, Markle is more than just a pretty dress, but the newlywed sure knows how to make a fashion statement. Meghan Markle's yellow dress at the "Your Commonwealth" event in London on Thursday, July 5 was another stunning look from the newly-minted royal.
While the focus of Thursday's Commonwealth Youth Forum event was to provide youth leaders representing Commonwealth nations — countries once under British rule — with the preparation to one day lead the Commonwealth, people couldn't help but notice Markle's sunny ensemble. Per USA Today, she donned a mid-length, sleeveless, vibrant yellow Brandon Maxwell dress. From Harry's reaction to his new wife's look, it really brightened up the occasion.
Markle opted to keep the straight-across neckline of the ensemble crisp and clean by skipping the necklace, and she also kept it simple on the bottom with a classic pair of nude heels. Honestly, Markle doesn't really need many accessories to up her look, and her summer-ready color choice was perfect for the occasion (even though it might not be a typical royal wardrobe choice).
While Markle's dress is the kind of stuff good vibes are made of, the event was also filled with a great energy, thanks to the 100 youths in attendance to represent Commonwealth nations at a reception at Marlborough House.
Queen Elizabeth II made Prince Harry a Commonwealth Youth Ambassador just ahead of his May 19 nuptials to Markle this year. With that gesture, the Queen passed on her hope that Harry and Markle would step into a leadership role in order to inspire the future generation of Commonwealth leaders. It's an important undertaking to empower the youth of the Commonwealth, since some 60 percent of the population that make up the Commonwealth Youth Forum — which includes 53 countries around the — is under the age of 30, per the official Kensington Palace Twitter account.
At the event on July 5, Harry shared his and Markle's enthusiasm for the organization when he said in a speech to the youth representatives:
Meghan and I are incredibly excited to meet so many of you representing the future of the Commonwealth. We can't wait to see you in action in your home countries and learn about what you're doing to better the Commonwealth, and the world, in 2040 and beyond.
Luckily, Markle is prepared for her royal duties on all fronts. Not only can she shut it down with the perfect ensemble for every occasion, but she is also a strong, educated woman who can make a positive impact in her role as the Duchess of Sussex.
The former American actress graduated from Northwestern University's School of Communications in 2003, and she even had an internship at the U.S. Embassy in Buenos Aires during her senior year. Beyond college, Markle has been involved in philanthropic efforts, like during her time in Rwanda as an advocate for women in the United Nations in 2016, per Harper's Bazaar. She and Prince Harry even asked for donations to charity in lieu of wedding gifts for their May 2018 wedding, according to The Guardian.
OK, speaking of their wedding, I must go back to the other front on which Markle masters the whole "royal" thing. I mean, just look at her two (yes, two) perfectly gorgeous wedding dresses.
Of course, Markle's bright yellow sheath at the Commonwealth Youth Forum event on Thursday packed more of a punch than what you've seen her in before. Since the event was youth-oriented, the playful color seemed perfectly appropriate. Now, you'll just have to wait and see what outfit she'll floor you with next.