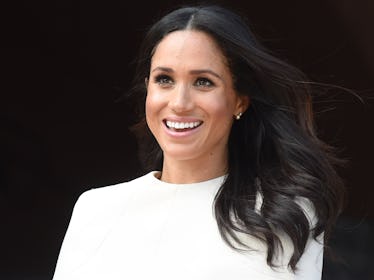 Meghan Markle Just Wore The Coolest Cape Dress & She Looks Like A Chic Superhero
WPA Pool/Getty Images Entertainment/Getty Images
To say I was utterly obsessed with Harry Potter as a child would be an understatement. When an owl inviting me to study at Hogwarts didn't arrive on my 11th birthday I was gutted. I actually cried. Had my magical dreams come true, Meghan Markle's Givenchy cape dress is what I could have only dreamt of wearing to my first day at the iconic school of witchcraft and wizardry, although it's aesthetic is decidedly more Beauxbatons. (In case you're not a total Potterhead, Beauxbatons is the school the incredibly chic Fleur Delacour attended—the uniform for the school actually featured mini capes.)
Now that I'm done rambling on about imaginary worlds (or so you muggles think!), I'll get back to Markle's dress. She wore it for her first solo outing with the Queen herself, which happened earlier today and entailed a few stops. The duo first visited Cheshire, England to open the new Mersey Gateway Bridge and the Catalyst Science Discovery Centre museum. According to the museum's website, it's "the only museum in the U.K. which explores the science and technology behind the chemical industry and its impact on our lives." After that, they headed to Chester, England to open the Storyhouse Theater and stop for lunch at the Chester Town Hall. You know, just a typical day with grandma!
Along with its mini cape neckline, Markles dress features a midi length, pencil skirt shape, and belt around the waist. It's streamlined, chic, and understated, and is perfectly in line with the signature style Markle has been building for herself. Designed by Givenchy, the design house that was also responsible for Markle's wedding gown, the dress certainly has the European je ne sais quoi. Markle accessorized the look with a black clutch and black pointy toed heels, keeping to the neutral color palette.
Beauty-wise, Markle ditched her much-loved messy bun for a loosely curled style. Her makeup look was light and natural as usual and featured a peachy nude hue on her lips.
While Markle's look certainly makes her look every part the newly-appointed Duchess she is, the Queen's look has stolen my heart. Continuing her legacy of wearing blindingly bright hues (she always does this for crowded outings, as it helps her security detail keep a close eye on her), she arrived to the event wearing a midi length coat the color of Wrigley's Spearmint gum over a floral dress, which peeked out from underneath. Let us not forget the matching brimmed hat, which was topped with a large green flower that, to me, resembles a mini head of cabbage. The Queen wore heeled Gucci loafers on her feet (chic!), a shimmery brooch on her coat, and carried a small black handbag to accessorize. I am obsessed with this look and with the Queen and need some acid green in my own closet stat.
As pointed out by Marie Claire, the Queen's personal train, which Markle and the Queen rode on for the outing, "is typically reserved for more senior members of the family, so clearly Meghan already has the whole royal thing nailed down. Her sister-in-law, Kate Middleton, didn't make an appearance with the Queen until almost a year after her and Prince William's wedding." Clearly, Markle is fitting in perfectly to her new royal family, but did you honestly expect anything less?
This is only the beginning of public appearances that Markle will make alongside the Queen, and I can't wait to see what the duo will show up in moving forward. Leave it to Markle to bring the impossibly chic and the Queen to bring the impossibly bright. It's all about balance.