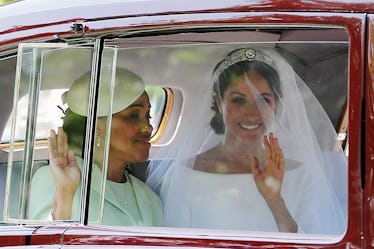 Meghan Markle's Wedding Dress Designer Has Finally Been Revealed & It's An Unexpected Pick
Richard Heathcote/Getty Images Entertainment/Getty Images
At long, long last, the most wondered-about fashion question of 2018 has just been answered, and the outcome is as good as you might imagine. Meghan Markle's wedding dress designer (and wedding dress, itself!) has finally been revealed, sending magazine editors, royal wedding fans, and other dress designers alike into a state of sartorially-motivated elation. If you aren't watching Markle and Prince Harry's wedding live, get ready to be stunned by the bride's beautiful gown.
While it was expected that Markle would wear a British designer, it wasn't a sure thing. While Kate Middleton wore a gown by Sarah Burton, the creative director of the luxury British fashion house Alexander McQueen, and Princess Diana wore a dress designed by London-born Elizabeth Emanuel, there is no set rule that a royal bride must wear a British-helmed creation. But in an interview with Harper's Bazaar, American designer Vera Wang, who is known for her wedding collections, said, "...there are two ways for her to go: American or British. Given her new position, her new status, and her new role, she'll very well go British."
In short, all signs pointed to a UK-born designer. From Erdem and Antonio Berardi to Giles Deacon and Alexander McQueen, the names thrown out by a slew of fashion publications as to who the mystery creative might be were as diverse as they were shots in the dark. But now, on the day of the much-anticipated wedding, we can confirm that British designer Clare Waight Keller from the French fashion house of Givenchy was the lucky visionary chosen to design the dress of the century.
Claire Waight Keller is the first female Artistic Director at the French fashion house. According to Vogue.com, her Spring 2018 collection that debuted at Paris Fashion Week back in October 2017 was full of strict and fitted silhouettes. The collection seemed practical, yet incredibly fashion forward to my eye — elements that we can also see in Meghan's dress as she floated down the aisle. This is the first bridal look for the designer, and it's making the most gorgeous waves in the wedding world.
Although this choice is so unexpected, Markle arrived at her wedding ready to blow away everyone in attendance with her beauty. She stood in the chapel gleaming by Prince Harry's side and ready to say, "I do." Her fairy tale totally came true, and I'm hoping all happily-ever-afters end with designer dresses like this one.
From the second I got a first look at Markle's dress, I was already reaching for the tissues. Her low (and slightly messy) bun, sparkly tiara (which happened to be Queen Mary's diamond bandeau tiara), and neutral makeup choices were enough to send me head over heels for the entire look before even seeing it in full. The anticipation of her stepping out of that vintage Rolls Royce was so real. Her mom, Doria Ragland, arrived to St. George's Chapel first, stepping into the venue just after the Queen of the United Kingdom and before her daughter made an appearance.
The look was surprisingly quite simple for Meghan, whom I expected would be a little bit risqué during the royal wedding. (Maybe a jumpsuit? Can you imagine!) Leading up to the main event, there was a lot of talk about whether or not the royal couple's vows would stick to tradition or if she would even wear a tiara. The only thing that wasn't totally in question was that she would, of course, look stunning.
Clare Waight Keller did so well in designing the dress of the century, with a boat-neck and elegant, fitted, three-quarter sleeve. There were no embellishments or hints of lace (apart from the veil), like we saw in Kate Middleton's gown. If we're being honest, Markle's veil and tiara totally stole the show. They added to the timeless look and brought some delicate details to something otherwise so plainly beautiful.
The Twitter world was ripe with reactions to Markle's look, and the consensus seems to be pretty sweet and salty. Some were as in love as the royal couple when it came to the designer dress, and others were totally underwhelmed. I had all eyes on the train as she walked out of the chapel with her new husband in hand.
Are you saying "yes" to this dress? In my personal opinion, the Givenchy designer did so well, and it's all heart eyes for the next week after this oh-so-lovely royal wedding. Girls in gowns can always make history.