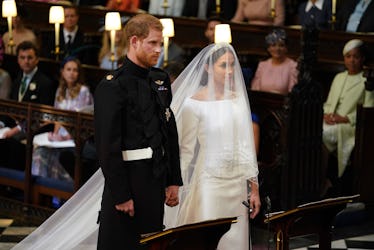 Here's What Meghan Markle Looks Like Up Close On Her Wedding Day
WPA Pool/Getty Images Entertainment/Getty Images
If Kate Middleton's elegant wedding day look was what I aspired to emulate if I were rich and famous, Meghan Markle's outfits leading up to her own big day were evidence that her looks resembled what so many of us already wear. Regularly sporting messy buns and comfy-looking trench coats, Meghan's fashion told us that to be royal, we don't need to be perfectly pristine. Understandably, she tidied up her look for her iconic walk down the aisle, but photos of Meghan Markle on her wedding day are images that have already made a deserving mark on royal fashion history.
Leading up to Markle and Prince Harry's big day, rumors flew that her custom wedding dress would come from the brand Ralph & Russo, a couture fashion duo that also designed the gown Markle wore for her engagement photo shoot with Harry. Bookies debating about the dress decision also gambled on labels such as Alexander McQueen and Erdem designing the anticipated gown. However, in a relatively unexpected move, the dress was revealed to be Givenchy upon Markle's arrival at the ceremony. Kensington Palace then tweeted that British designer Clare Waight Keller, Givenchy's first female artistic director, had designed the dress. Additionally, Markle's veil was held in place by Queen Mary's diamond bandeau tiara, a 1932 creation that Queen Elizabeth II lent to Meghan for her special day.
When we first caught a glimpse of Meghan and her mother Doria Ragland en route to St. George's Chapel, only details from above Markle's bustline were noticeable. I still got misty at the blink-and-you-missed-it moment — Meghan is a bride, guys!
Of course, Markle didn't have total freedom in her dress selection. Following in the footsteps of royal brides before her, Markle had to obey a set of guidelines detailing what kind of look was appropriate for a royal couple's church wedding. Even with those rules in place, sources say that she still had more leniency with her dress design than Middleton did, as Markle isn't marrying a future king (don't worry, I'm sure Harry really doesn't mind).
Meghan's dress is certainly different from Kate's, but in the best way possible. If it wasn't already obvious that she's bringing a dose of fresh, American air into the British royal family, Meghan's dress marks a new chapter in the monarchy that's currently unfolding, but for now, I can only gape over how gorgeous the gown is. Make those Suits fans proud, girl!
The grand reveal of Markle's full wedding look wasn't until her car finally arrived at the chapel following a flurry of bridesmaids, page boys, and spectators' Union Jack flags. Remember that heart-stopping moment when Kate arrived at her wedding and we watched her train flow out behind her? Yeah, my heart palpitations started at that first glance of Markle overall.
In addition to the clean and classy wedding look Markle wore, I'm quite weepy over everyone else at this wedding getting equally weepy. From Harry wiping away tears when Markle arrived to her mother looking misty in the audience, I'm crying more before 10 a.m. than I ever thought I would.
For Kate and Prince William's 2011 wedding, the excitement of a new dress didn't end with the ceremony. The blushing bride was photographed in a less extravagant but just as lovely reception dress, so I'm keeping my eyes peeled for news of a second dress from Markle later today. Given how much she clearly enjoys fashion, I would hope that another dress is basically guaranteed.
Who else is ready for the onslaught of novelty figurines and plates capturing Meghan's beautiful wedding day look?