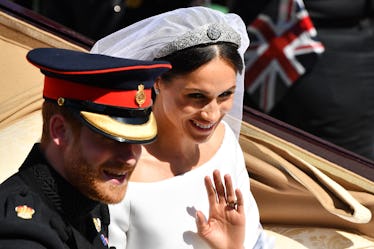 Meghan Markle's Wedding Dress Is A Timeless Masterpiece, But Her Tiara Stole The Show
Leon Neal/Getty Images Entertainment/Getty Images
Many girls grow up wanting to look like royalty when they walk down the aisle on their wedding day, and Meghan Markle is living out that dream for all of us. These photos of Meghan Markle's wedding dress, designed by Clare Waight Keller for Givenchy, look like they popped straight out of a fairy tale, so be prepped to cancel the rest of this weekend. You'll be busy swooning over this regal affair for days.
Pinkies up, ladies, because Meghan Markle and Prince Harry's wedding day is finally upon us. While you're sitting in front of the TV with your friends, buttering your scones and jammin' up your crumpets, be sure to have a solid grip on your tea cup. You just might spill it everywhere once you see how stunning Markle looks in her wedding gown (and that's some hot tea we don't want to spill).
To be honest, I've been smiling like a fool at the TV screen for the past 15 minutes, and I'm low-key crying happy tears for this beautiful couple (while rocking my sweats, messy bun, and tiara, might I add). Naturally, Prince Harry looks handsome AF today (honestly, what a bae), but all eyes right now and for the foreseeable future are focused on Markle and her exquisite wedding look.
Fashionstas across the globe are getting butterflies swooning over the bride's gown, makeup, and hair.
We've been eagerly waiting for this wedding to arrive for what seems like eternity and daydreaming about the couple saying their "I dos." Of course, we've occupied ourselves by keeping tabs on every single detail leading up to it, from the luxe cake and floral arrangements to the dreamy ceremony itself. Now that the big day is finally here, I'm feeling FOMO that I'm not all glammed up in a fascinator and pastel sundress with a hot wedding date at Windsor Castle. Alas, I'll just have to live vicariously through the TV screen.
Markle looks like a vision from head to toe in her boat-neck style gown.
Leading up to the main event, many of us were wondering what traditions Markle would follow on her big day, in addition to who would design her wedding dress. (Oh, what an honor!) Harper's Bazaar spoke with designer Vera Wang a couple of weeks back about what Markle's wedding dress could potentially look like. Wang has made many gorgeous gowns for celebrity brides, and told Harper's Bazaar, "Other than [wearing] us, and she's not wearing us — there are two ways for her to go: American or British. Given her new position, her new status, and her new role, she'll very well go British."
Today, on Saturday, May 19, we finally have all of the answers about Markle's royal wedding gown.
Clare Waight Keller for Givenchy designed Markle's dress, and it's safe to say, from the fabric to the style, everything about it is giving me life.
Her dress features an A-line bottom with very simple, smooth, and elegant lines, but her tiara, Queen Mary's diamond bandeau tiara, is what really stole the show.
As if the tiara wasn't already the most beautiful thing on Markle's head, she also had beautiful earrings to complement it.
Real talk: Meghan looks radiant all around.
Her veil is cathedral length, and according to Kensington Palace, it features small lace details paying homage to "all 53 countries of the Commonwealth." The tiara, lent to her by Queen ELizabeth, is completely adorned with gorgeous stones that sparkle and glisten, with a "centre brooch dating from 1893."
The bride's gown has three-quarter sleeves and a high back. The fabric is a "double bonded silk cady," according to Kensington Palace, boasting "a soft matt lustre."
Meghan, you made such a beautiful statement on your wedding day. You have given all of us #WeddingGoals for days and years to come.