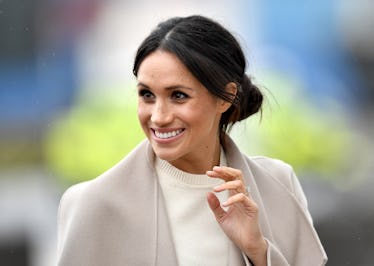 You Might See These 4 Royal Wedding Fashion Traditions On Meghan Markle For Her Big Day
Charles McQuillan/Getty Images Entertainment/Getty Images
Prince Harry and Meghan Markle will officially say "I do" in a mere 15 days as the entire world looks on. What will the bride wear? Who will design her dress? How will she do her hair? These anticipatory questions have been swirling. Thanks to four royal wedding fashion traditions that are strictly followed union after union, not everything remains a mystery. Although, the biggest secret of all — which fashion house or designer was selected to design Markle's dress — will remain a secret until the big day.
Traditionally, royal wedding dresses are designed by British houses or designers. Princess Diana's dress was designed by London-born Elizabeth Emanuel, and Kate Middleton's was designed by Sarah Burton, the creative director of the luxury British fashion house Alexander McQueen. Because Markle is American, there's been speculation that this might not be the case for her wedding. But American designer Vera Wang, who is known for creating stunning celebrity wedding gowns, recently told Harper's Bazaar, "...there are two ways for her to go: American or British. Given her new position, her new status, and her new role, she'll very well go British."
Regarding the actual style of the dress itself, Wang hypothesized it will be "neither full blown royal wedding like Diana or Kate, and neither narrow, sensual and more sexy–I think she'll go somewhere in-between that feels a tad more modern." I truly hope this is the case and that Markle's own chic, streamlined style will be represented in the gown. Seeing as both Princess Diana and Middleton's dresses featured long sleeves — a design aspect that many other royal brides have chosen to embrace, though not all — it will be interesting to see if Markle follows suit. Both also chose dresses that featured a lot of lace, which is another royal bride favorite. Because lace doesn't seem much like Markle's style, perhaps she'll eschew that design element, too.
We'll have to wait and see about the specifics of her dress, but in the meantime, let's review the fashion traditions that have long held true at all royal weddings.
First, regardless of designer or style, the wedding dress must always be white. This widespread tradition started with Queen Victoria in 1840, according to Vogue.
Second, the bride always wears a tiara with an attached veil. Queen Elizabeth II gave the "Cambridge Lover's Knot Tiara" to Princess Diana as a wedding gift, and Kate Middleton been spotted wearing it on several special occasions. Kate Middleton borrowed Cartier's Halo Tiara from Queen Elizabeth for her own wedding as well.
Third, the bride's bouquet always includes a sprig of myrtle. In the 1800s, Queen Victoria and Prince Albert were gifted a myrtle plant from Albert's grandmother. When they married, Victoria carried a sprig of the plant, which symbolically represents love and good fortune in marriage, in her bouquet. Since then, that same centuries-old myrtle plant has provided sprigs for the bouquets of brides, including Princess Victoria, Queen Elizabeth, Princess Diana, and Kate Middleton.
Finally, the bride's wedding ring is made from Welsh gold. Prince Harry's great-grandmother, Queen Elizabeth I, was the first to have a wedding ring made of gold from Wales when she married King George VI in 1923. The tradition has been followed ever since. According to Reuters, "The 24-carat Welsh gold has a higher percentage of pure gold than standard 18-carat gold, giving it a rich, warm color."
Although these four royal wedding style traditions are strictly adhered to, they leave a lot of room for creative dress design and styling. All eyes will be on Markle come May 19, 2018, and whichever designer was selected to craft her gown will certainly also be in the spotlight. I don't know about you, but I'm hoping for a seriously shocking sartorial shakeup.