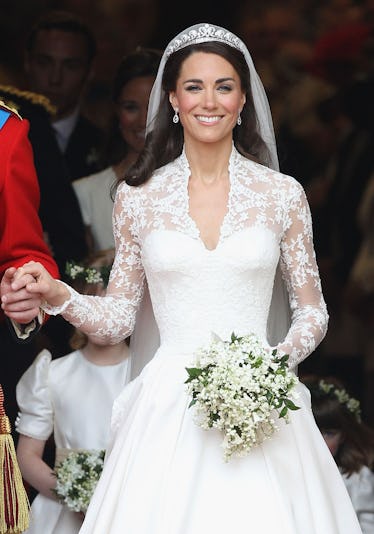 These Photos Of Kate Middleton's Wedding Tiara Will Bring You Back Down Memory Lane
Chris Jackson/Getty Images Entertainment/Getty Images
The countdown is on for the 2018 Royal Wedding between Prince Harry and Meghan Markle, and I'm just trying to contain my excitement. My free time is consumed with reading articles about Markle's wedding dress, the couple's venue decor, and, of course, the tiara Markle may wear. While I patiently wait for the reveal of all the details on the big day, at least I have gorgeous photos of Kate Middleton's tiara from her wedding day to hold me over.
It's mind-boggling to think that just seven short years ago, Middleton and Prince William tied the knot, and the world collectively lost it. While most of the public's attention was locked in on the tiny details of Middleton's wedding gown, the intricacies of her tiara were just as important. In case you weren't aware, one lesser known fact about the tiara Middleton wore on her wedding day, the Cartier Halo Tiara, is that it served as her "something borrowed" item for her wedding day, according to Tatler, and it has a special connection to Queen Elizabeth.
Because Middleton was not a royal to being with, she didn't have a family tiara to be passed down to her, so Queen Elizabeth loaned the Halo Tiara to her, according The Adventurine. The Royal Collection reports that King George VI commisioned Cartier to make the tiara for his wife, Queen Elizabeth I, right before he became king in 1936. Queen Elizabeth I eventually passed it down to then-Princess Elizabeth in honor of her 18th birthday. Over the years, Queen Elizabeth II lent the tiara to several other members of the royal family, including to Princess Margaret, her sister, and Kate Middleton, the Duchess of Cambridge, for her wedding.
This tiara isn't even the most opulent piece that has circled the royal family. In reality, it's quite small compared to other pieces, but it's equally stunning. Tatler reports the Halo Tiara has stylized petals with "739 brilliant-cut diamonds and 149 baguette diamonds."
Cartier is an iconic jeweler, and sometimes, people forget that the brand has a rich history that runs much deeper than the super fashionable Cartier Love Bracelets. In fact, according to the New York Times, even King Edward VII once said, "Cartier is the king of jewelers and jeweler of kings." Essentially, Cartier has long been the go-to jeweler for British royals, and needless to say, the Cartier archives are filled with pieces worn by and created for members of Britain's royal family. And Americans were in on the Cartier hype as well. American "royalty" like Elizabeth Taylor and Grace Kelly were known to wear Cartier pieces as well.
When I was a little girl, I always dreamed of wearing a tiara. But the tradition of wearing a small crown of jewels atop your head extends far deeper than just an aesthetic choice. According to Parade, Tiaras hold more significance than just the finishing touch on a wedding look. Aside from the fact that tiaras are often passed down through several generations, Live Science reports that tiaras have historically been used to designate social status and to signify authority.
If by chance you thought that Middleton would lend her crown to Markle for her big day, it's confirmed that won't be the case. Vogue Paris reports that the Cartier Halo Tiara, as well as other iconic Cartier pieces, will be displayed at the National Gallery of Australia from May 30 to July 22 of this year. It's yet to be confirmed if Markle will even wear a tiara for her big day on May 19, 2018, and if we're being honest, she's gone against the grain quite a few times already. However, should she decide to, the bride-to-be has many royal jewels to choose from, apart from the Halo Tiara.
If anything Markle will probably rock something more modern to match her forward, structured style. For now, I'll try to wait patiently until the big day and research how many tiaras the Duchess of Cambridge now owns.