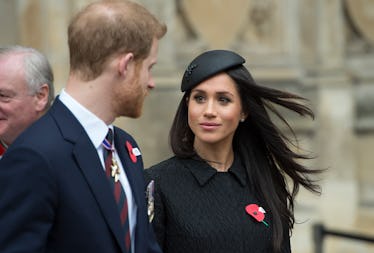 Meghan Markle Could Break A Major Tradition If She Doesn't Include This In Her Wedding
WPA Pool/Getty Images Entertainment/Getty Images
Guys, the royal wedding is so soon, and I haven't been this excited for a royal wedding since, well, I've never been so excited for a royal wedding (no offense, Kate Middleton, but you stole my man, so you're beat). I mean, I dare you to give me an example of a more perfect, IRL-fairytale than Meghan Markle and Prince Harry. Unfortunately, some of the magical details are going to stay under wraps until May 19 (i.e. the dress, reception menu, who's sitting in the VIP pews, etc.), but I do know this: Royal brides carry myrtle in their bouquet, so you can expect to see the same sprig in Markle's floral arrangement — as long as she sticks with tradition, that is.
Different cultures, religions, and apparently, royal families, all have unique traditions in place that are meant to be carried out on holidays and during big, life-changing events — like, say, a wedding. Up until now, though, Markle's made it very clear that, while she respects her in-laws, and everything that comes with the lifestyle she's marrying into, she's anything but the conventional princess. Avoiding signing autographs for adoring fans, making sure not to don messy buns in public, and setting her wedding date on a weeknight are just a few of the many royal traditions Meghan Markle has reportedly broken. So the question is, will Harry's princess adhere to the traditional floral arrangements of a royal wedding?
Personally, flowers weren't a huge deal to me when I was planning my wedding. I had a general idea of what I liked, and I trusted my florist to create something beautiful, which she did. But the royal family? They don't mess around when it comes to the flowers.
Leaving any minor detail to chance isn't how royals do things; tradition is a part of every aspect of a royal wedding, especially when it comes to the bride's bouquet. Adding a sprig of myrtle to a royal bride-to-be's bouquet is a tradition dating back to the era of Queen Victoria, according to Southern Living. Princess Diana did it, Kate Middleton followed suit, and now, it's up to Markle to carry on the tradition.
If you don't know a whole lot about botany, here's the scoop: Every flower has a meaning. For example, according to Farmer's Almanac, roses represent beauty and balance, while lilies symbolize the innocence of the dearly departed. Myrtle, Farmer's Almanac notes, represents love and marriage, but there's more to this flower's story for royal Brits. According to The Telegraph, in the 1800s, Queen Victoria and Prince Albert were gifted a royal myrtle plant from Albert's grandmother. Now, the sprig of myrtle that royal brides carry in their bouquets is picked from that exact plant in Victoria's very garden, as a nod to the former queen.
Markle's florist is expected to include myrtle in her bouquet, but according to Town & Country Magazine, the full flower arrangement will also include a bit of the bride's personality.
Markle is definitely a game-changer for the royal family tree, so it's really not all that surprising that the floral arrangement she'll walk down the aisle with is going to include a bit of her own flair. Town & Country reports that Markle and Prince Harry committed to London-based florist Philippa Craddock at the end of March, and "branches of beech, birch and hornbeam, along with white garden roses, peonies and foxgloves" will be woven into the bride's bouquet.
On top of adding myrtle to her bouquet, you're probably dying to know whether or not Markle is planning to adhere to the all-white-everything color palette brides typically follow. Vogue notes the 36-year-old's now-deactivated Instagram account was practically a testament to her favorite flower, the peony — which, BTW, blooms fuchsia and pink, as well as white.
Bottom line: I guess we'll just have to wait and see how it all plays out. I know I'll be watching, as well as updating my social feeds in real time to keep up with all of the juiciest details of the royal wedding.