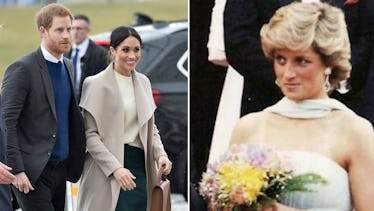 Meghan & Harry Are Honoring Princess Diana At Their Wedding In A Beautiful Way
Charles McQuillan/Getty Images Entertainment & GEORGES BIARD
Holy Queen Elizabeth, Batman! The royal wedding is rapidly approaching and with it comes new and exciting details. For example, the public just learned Meghan Markle and Prince Harry's wedding flowers will include a tribute to the prince's late mother, Princess Diana. Among the many, many, special touches, this sweet detail just might be my favorite.
I don't want to make this article about me (HAHA), but I am also getting married. Sure, I'm not becoming a princess or anything, but I'd like to think Markle and I have a lot in common right now. As a fellow fiancée, I feel like I can surely confirm planning a wedding is a whole thing. This includes but is certainly not limited to dealing with things like: picking the venue, the guest list, the wedding dress, the invitations, the ceremony readings, what your in-laws want, the menu, the lighting, the band, whether or not you're unknowingly hurting any number of peoples' feelings and, of course the flowers. Sure, Meghan also has to worry about pleasing a nation and whatever, but I get her. Ya know?
Elle reports Markle and Prince Harry are using their flower arrangements to honor Princess Diana by including special white garden roses. According to the magazine, white garden roses represent purity, virtue, innocence, and sincerity, all of which were widely associated with Princess Di. BBC reports the flowers will be accompanied by Markle's favorite blooms, peonies, and foxgloves.
Philippa Craddock, a London-based florist, has the honor of creating the floral arrangements. Kensington Palace announced Craddock in a sweet message on Instagram. They wrote:
Prince Harry and Ms. Meghan Markle have chosen floral designer @philippacraddock to create the church flowers for their wedding 💐 The displays in St George's Chapel will feature foliage from The Crown Estate and Windsor Great Park, and will use seasonal plants including branches of beech, birch and hornbeam, as well as white garden roses, peonies and foxgloves. The designs will reflect the wild and natural landscapes from which many of the plants will be drawn.The Royal Parks will also supply pollinator-friendly plants from their wildflower meadows. These plants provide a great habitat for bees and help to sustain healthy and biodiverse ecosystems. 📷 PA
According to Marie Claire, there is a garden aptly titled The White Garden at Kensington Palace that's also a tribute to Princess Diana. This is also the location where Prince Harry and Meghan Markle had their first photo shoot after announcing their engagement.
In 2017, Kensington Palace's head gardener, Sean Harkin, explained the significance of The White Garden to Country Living. Harkin said,
I knew we would be doing an exhibition inside the palace to mark 20 years since she died and thought we should do something in garden as well to celebrate the memory of Princess Diana actually being here...
... Diana wore a lot of white and creams. Certain pieces in the exhibition stood out like the famous Elvis dress as well as some of the photos from the Mario Testino shoot in 1997 where she wore cream. The whole feel of the exhibition, those photos and the dresses was quite radiant, and the feeling was quite uplifting, which is what we wanted the garden to be.
It's truly so special!
Markle revealed in her very first interview as Prince Harry's fiancée how important it is to both her and Harry to include tributes to Princess Diana. She told BBC, "It's so important to me to know that she's a part of this with us."
The flowers seem like the perfect addition, and I can't wait to see the final look of the entire day!