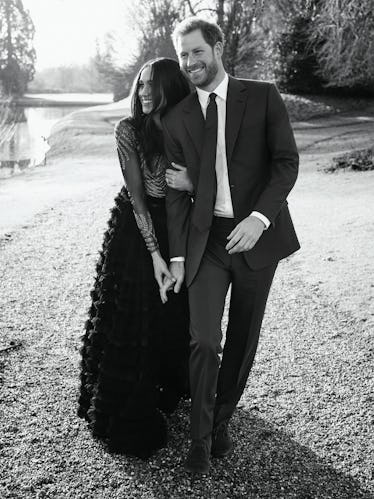 Meghan Markle's Wedding Dress Sketches Are Here & Beyonce Wears The Same Designer
Handout/Getty Images Entertainment/Getty Images
Prince Harry and Meghan Markle's engagement was the news heard round the world, swiftly followed by speculations about every possible detail of their wedding. One of the most intriguing lines of questioning is about Markle's dress: Will she wear more than one gown? Don a short or long style? And will she opt for a British, Canadian, or an American designer? Well, photos of Meghan Markle's wedding dress sketches have made their way to the internet, and if they're any indication, she's going to absolutely slay her big day.
The world is that much closer to Markle's royal bridal debut. Designer Inbal Dror has just confirmed that she fulfilled the bride-to-be's request for gown sketches. The Jerusalem Post was first to report that the Israeli designer received an official request from Kensington Palace to submit drawings for Markle. People then squeezed a bit more information out of the designer's team, but unsurprisingly didn't get many more details about what the potential gown looks like. "We received a request from the royal family to send a sketch. Unfortunately it's a secret and I can't give more details about the sketch," Dror's team told the outlet.
Dutch design house Victor&Rolf has also commented on wanting to design Markle's dress, but Inbal Dror is the first brand to be legitimately linked to the upcoming nuptials. Mum's the word from both Dror and Markle on additional details, but I'd never let that stop me from diving head first into this imperative matter.
The First Dress
Markle has been married once before, and her first wedding dress was a simple, Grecian-style gown with a beaded belt. Markle has actually commented in the past about her low-key style, and how she admires Carolyn Bessette Kennedy's minimalist wedding gown. Markle's first bridal look was beautiful and fit well with her beach wedding, but I have a hunch she'll step up her game for this second go-round.
The Princess Bride
At this point, you're probably asking, "Who is Inbald Dror?" The designer is known for her intricately detailed gowns (like the ones shown above), so it makes sense that Markle tapped her for inspo. The beading on those gowns is something of a masterpiece, and I can just picture Markle, shining bright like a royal diamond, walking down the aisle to Prince Harry in one of these beauties.
The Other Queen
While Dror is known for her wedding gowns, she doesn't limit herself to such occasions. The non-royal queen of this world, Beyoncé, wore one of Dror's creations to present at the 2016 Grammy Awards. Let's all take a moment to appreciate Queen Bey.
Bey also wore an Inbal Dror costume as one of her many fierce Formation tour looks. I was already intrigued by Markle's pursuit of Dror, but now knowing that Beyoncé is also a fan, I'm done.
The Shock Value
Why is Markle's interest in the Israeli designer so surprising? Along with her meticulously crafted gowns, Dror is also known for some rather risqué designs.
Freed nipples are nothing new at Fashion Week, but I think it'll still be a while before the British royal family gets on board with sheer tops.
I don't think Palace officials would approve of this low-cut, high-slit ballgown. Dror is practically a wizard with these designs, though, and I bet she could tailor any of these to Markle's more conservative needs.
Kate Middleton showed what I imagine to be the borderline-allowed amount of cleave at her wedding to Prince William in 2011. Noteworthy about Middleton's dress, however, is that it was made by British designer Sarah Burton, working for British fashion house Alexander McQueen. Notice a theme there?
Markle is boldly breaking through some older traditions — when she weds Prince Harry, she will be the first American to marry into the British royal family since 1937, and the first person of color in modern history. Markle is also Catholic, and since the Queen is Protestant, this would have been reason enough to deny the marriage as recently as 2015.
As seen in the sketch above, Dror may be decking Markle in a high, Victorian era-esque neckline, lacy bodice, and mermaid style skirt. Look at how the skirt opens up to reveal ruffles galore? The drama! I can't.
All in all, Markle wouldn't be totally out of line to pick a non-British designer to make her #fashun gown, because at this point why follow the rules? Do you, Meghan!