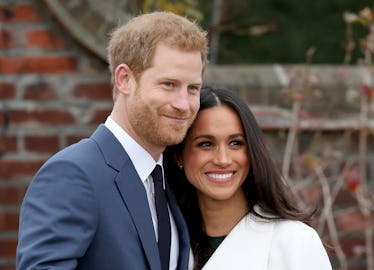 Meghan Markle Already Described Her Dream Wedding Dress & Her Vibe Will Surprise You
Chris Jackson/Getty Images Entertainment/Getty Images
It's official, another Royal Wedding is in the works! Prince Harry and Meghan Markle are engaged, delighting so many fans here in the States as well as across the pond in England. Aside from seeing the ring, the big question is, who will make Meghan Markle's wedding dress? Markle has actually spoken about her bridal visions in the past, and wore a stunning Anne Barge wedding gown as her character Rachel Zane on Suits. Given her consistently spot-on aesthetic, I've no doubt her dress will be drop dead gorgeous.
The younger brother of Prince William and the Suits actress announced their engagement on Monday, Nov. 27 with a stroll through Sunken Gardens at Kensington Palace. The press, of course, bombarded them with questions about their impending nuptials and their presumable excitement. Prince Harry responded that he is, "Thrilled. Very glad it's not raining!" Markle added that she is, "So happy." I can only imagine that the royal-to-be felt the same way about the weather.
As someone who daydreams about wedding dresses that are theoretically in my future, I can relate to Markle for having spoken about her wedding gown ideas already. What woman doesn't fantasize about the day she can dress like an actual princess? And for Markle, she is literally going to be a princess. (Well, actually not. She is rumored to become the Duchess of Sussex, but I currently have no royal title, nor do I expect to ever have one, so that still seems pretty sweet to me.)
As for the dress, I selfishly hope Markle opts for a ballgown so that I can live vicariously through her. Since I don't think I'm going to find out that I'm secretly related to a royal family á la The Princess Diaries, marrying an existing royal seems to be my last hope.
Before Markle even met her future husband, she spoke to Glamour in early 2016 about her bridal aspirations:
I have the luxury of wearing beautiful pieces of clothing every day for work, so my personal style—wedding or not—is very pared down and relaxed. Classic and simple is the name of the game, perhaps with a modern twist. I personally prefer wedding dresses that are whimsical or subtly romantic. Delphine Manivet and Christos Costarellos are faves of mine for their uniqueness and beauty. And I will always be a fan of Ellie Saab. J. Mendel is spectacular as well, especially for more structural designs.
The actress also mentioned that Carolyn Bessette Kennedy's dress that she wore to marry John F. Kennedy Jr. is "Everything goals." Can I talk about how excited I am that a future Royal uses words like, goals?! Maybe she can introduce the Queen to some hip millennial slang.
I'm clearly hoping the wedding will be a real life remake of The Prince and Me, meaning extravagance up the wazoo. Markle's personal style is pretty low maintenance, though, so perhaps her wedding gown will follow suit. Alas, only time will tell.
Along with the engagement announcement, Markle debuted her drool-worthy ring while also wearing a bridal-inspired white coat by Line the Label. The ring is a nice change from Kate Middleton's (also gorgeous) blue sapphire ring. Markle is following in some beloved footsteps belonging to Middleton, but clearly she is also paving her own path.
Prince Harry reportedly used diamonds belonging to his late mother, Princess Diana, to design the new stunner. But of course, I've still got questions. Is he expected to spend three months worth of rent on an engagement ring? Does he even pay rent? I also need more info on how the proposal actually went down. Prince Harry did confirm that it was very romantic and that us commoners will get more details about it in due time. But I'm impatient so hopefully that time comes soon.
These two are already couple goals. And look at Markle's coat! The bride-to-be is practically ready to walk down the aisle right now. I mean, if I were engaged to a member of the Royal Family, I'd be in a hurry to seal the deal, too.