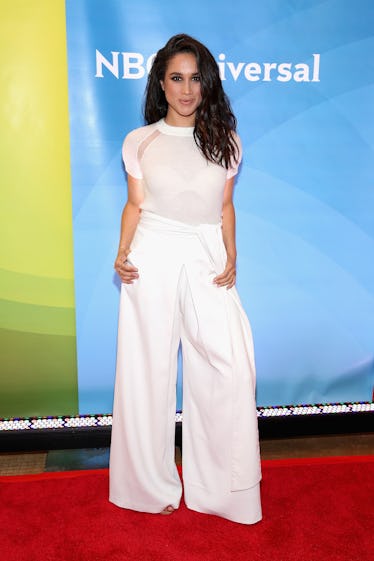 Photos Of Meghan Markle's First Wedding Dress Prove She Admires Kate Middleton's Style
Robin Marchant/Getty Images Entertainment/Getty Images
Ever since American actress Meghan Markle became engaged to Britain's Prince Harry, pretty much everyone has been giddy over the modern day love story. In addition to her philanthropic initiatives, killer wardrobe, and obvious intelligence, Markle seems like a genuinely real person. I'm inspired by the fact that she's found love again after being married once before. Photos of Meghan Markle's first wedding dress have surfaced online, and based on her previous style, she's going to absolutely rock this internationally-televised wedding thing.
Markle is living my real life childhood fairytale — of course I'm jealous, sorry not sorry. She was born a beautiful and charming commoner, met a cute prince (with a dreamy British accent and ginger hair), and now they're getting hitched. Markle's story has an extra chapter in it, sure, because she was married to American movie producer Trevor Engelson from 2011-2013, but there's no shame in her game. While I've been speculating my butt off about what her upcoming wedding gown may look like, we now have photos of the very dress Markle once chose for the special occasion.
According to pictures from Markle's first wedding, the royal-in-waiting looked to none other than future sister-in-law Kate Middleton for inspo. Their nuptial-day dresses are strikingly similar, but I understand if you're not yet convinced. Be patient, I've got the receipts.
Middleton's First Dress
For her wedding to Prince William, Middleton's dress was a custom-made Sarah Burton for Alexander McQueen gown. It still brings tears to my eyes. This isn't the particular dress that I think inspired Markle, but there's always time to stop and gush at how beautiful Middleton looked on her big day.
If/when Middleton becomes Queen, it will give a whole new meaning to this phrase, and I can't wait for that bloody brilliant day.
Middleton's Second Dress
Now we're talking. Middleton sported a second (and equally gorgeous) McQueen gown to her wedding reception. Their reception was much less publicized (read: televised) than the ceremony, but I did manage to get my sticky fingers on this photo. The party dress is so understated yet so elegant, and I love how the glimmery belt serves as the focal point.
Markle's First Dress
Photos of Markle's first wedding dress reveal her OG bridal style, and I spy some similarities to Middleton's reception stunner. Both gowns boast simple, strapless silhouettes and intricate, beaded belts. Markle's original gown definitely had some pre-princess vibes. The actress has even previously described her dream wedding gown as, "Classic and simple is the name of the game, perhaps with a modern twist." I'd say this describe's Middleton's reception dress to a T, no?
Markle and her now ex-husband Engelson married on Sept. 10, 2011, about five months after Prince William married Kate Middleton, on Apr. 29, 2011. And since Middleton's wedding was watched by literally millions of people, it's safe to assume that Markle might have been among the viewers.
However similar their dress vibes may be, the rest of Markle's first wedding was a bit more raucous than her wedding to Prince Harry will likely be. The actress had her first nuptials in Jamaica, where guests partook in beachside drinking games. That sounds like a lot of fun and I'm sad I wasn't invited, but I have a hunch that the Queen will want a more upscale affair for her grandson and granddaughter-to-be.
Sit tight, people, I've got even more proof for you to show how much Markle seems to admire Middleton's style. Keep reading while I sit here sipping my tea.
The Occasion White Coat
Middleton is revered for her killer coat game, and she's even been spotted in affordable coats from Zara. Here she is in a striking white number complete with a statement hat.
And of course, Markle sported this now sold-out white coat for the big engagement announcement. No fascinator hat for Markle just yet, but all in due time, my friend.
The Dutiful Blue Coat
Middleton joined her hubby Wills in a royal (how fitting) blue outer coat, looking every bit the part of Princess.
Markle walks along side her future husband in a sweeping blue coat, this time a tinge more navy.
It's safe to say that while both women have impeccable style, Middleton has an admirer on her hands. That, and Markle looks great in just about everything. I cannot wait to see what this means for the new iteration of Markle's wedding gown. Maybe she'll even take designer duo Viktor & Rolf up on their offer for a "sexy" wedding dress. A girl can dream.