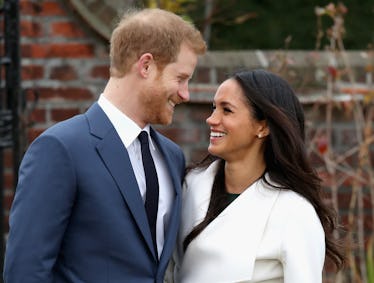 7 Meghan Markle White Coat Dupes So You Can Look Royal Even If You're Single AF
Chris Jackson/Getty Images Entertainment/Getty Images
I, along with the rest of the world, was obviously excited to see Meghan Markle and Prince Harry's engagement photos, which are just classy AF. The ginger-haired Prince Harry is certainly a babe, but if it's at all possible, I'm a bit more jealous of Meghan Markle's white coat. With its creamy color and fancy cut, the belted outerwear somehow conveys the elegance of the moment, and Markle already looks like a princess. My first thought was all, "congrats to the lucky couple," followed quickly by, "I need a coat like that," because I'm royal in my own mind.
In 2015, I fulfilled my dream of visiting London, when I had the chance to spend the semester abroad in the city. During my time there, I was able to travel with my best friends, attend beautiful museums and art exhibits, and experience the excitement of Duchess Kate Middleton's pregnancy. After weeks of being on baby watch, I was so tempted to miss my flight when the birth of Princess Charlotte was announced, right as my taxi made its way to Heathrow Airport. So you can understand my excitement with the announcement of this engagement. America is my country, but London is my playground.
My fellow American, Markle, absolutely nailed her inaugural royal style moment. Her hair is on point, and I love that she went with a neutral manicure and shoes. But it all comes back to that beyond-lush coat.
Sporting nude Aquazzura Matilde Crisscross Suede 105mm Pumps ($695, neimanmarcus.com) and a green dress from P.A.R.O.S.H., Markle finished the look with a sleek, white coat by Canadian label Line. The internet obviously went gaga over the garment and it's already sold out, which is fine because it retails for $627 American dollars and is over my budget. The brand has even renamed it the "Meghan."
If you're like me (single AF and unable to drop 700 bucks on outerwear), you'll want to peruse these Meghan Markle coat dupes, which have all the panache of Markle's wrap for a less intimidating price tag.
The Sexy Version With Pockets (For People With Hands)
If you're a fan of the draped look, but do not want to shell out a ton of money, Forever 21 is a perfect introduction to this trend. Although this piece is a bit lightweight, it will be perfect for layering under a warmer winter jacket.
The Open Front Coat Perfect For Layering
Missing the belt from Markle's version, this slightly different version is a true white. So if you are looking to turn heads in winter white this holiday season, this is the piece for you. Also, because it boasts a deep V, you can layer turtlenecks, sweaters, and scarves in contrasting colors for a chicer-than-thou look.
The Trench Coat Worthy Of Olivia Pope
I'm obsessed with actress, author, and all-around bad*ss Gabrielle Union because she is so classy. Her new collection at New York & Company is the bomb, whether you need something for work or a transitional piece for a business-casual holiday party. The above coat is giving me all of the Olivia Pope vibes, B613 not included!
The Luxe French Terry Jacket
A much more casual iteration of Markle's coat, this one features draping, large lapels, and touchable terry fabric. This jacket is not only a one of a kind piece, but I love how it doesn't look super bulky.
The Faux Fur Coat Of PETA's Dreams
Although this jacket does not have the structured look of Markle's jacket, the draping is similar to her look. If you happen to purchase this jacket before Cyber Monday is over, you can get an additional 25 percent off at checkout.
The Double Breasted Coat Fit For Royalty
With the fancy buttons, this coat reminds me of something a royal would wear for a photo opp. It's ideal for anyone who wants to feel like an ice princess, even if you worry relentlessly about spilling coffee all over it.
The Premium Wool Peacoat With Pockets
Peacoats rule, period. During the winter, a peacoat makes me feel like the grownup version of Eloise. Although this coat is a bit on the expensive side, it's now 50 percent off for Cyber Monday. If you don't snag that deal, it's still a great investment that will last you many winters. The large buttons, draped details, and belt combination will never go out of style.