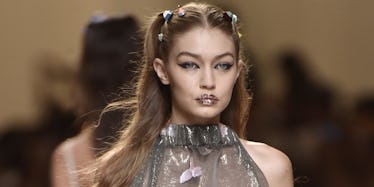 Free The Nipple: Gigi Hadid Slayed The Runway In A Completely Sheer Dress
REX/Shutterstock
Gigi Hadid freed her nipples all over the runway and honestly, it was super inspiring.
It's been a weird Thursday for the 21-year-old model. After leaving a Max and Mara show at Milan Fashion Week, Gigi was picked up by some rando dude.
I don't mean like he went over to her, dropped some super casual lines and she gave him her number.
I mean he like literally picked up -- like physically grabbed hold of her, lifted her off the ground and started running.
Gigi Hadid elbowing this creep is every girl who has ever been picked up without being asked pic.twitter.com/ENW7dmkspc — The Daily Uniform (@thedailyuniform) September 22, 2016
Yup! Absolutely terrifying! Eff that.
She's doing fine though. She has since responded on twitter, jokingly brushing off the exchange with her assailant.
and had EVERY RIGHT to defend myself. How dare that idiot thinks he has the right to man-handle a complete stranger. He ran quick tho — Gigi Hadid (@GiGiHadid) September 22, 2016
Gigi wasn't going to let some measly lil' almost-abduction ruin her day.
She brushed off the attack, threw on some model clothing and made her way down the runway.
Gigi Hadid walking the runway at the Fendi SS17 show. Is one nipp* * higher than the other?pic.twitter.com/rWATpifnvP — CICCONE (@Madjesty1) September 22, 2016
More than just making her way down the runway, Hadid decided to take a stand and show some support for the #FreeTheNipple cause the only way one truly can(s) -- like cans, get it? Admittedly, this is a C- joke at best.
Gigi wore this outfit during a runway event for Fendi.
You will never be more jealous of Zayn Malik.
Gi walking for Fendi So beautiful !!! @Fendi @GiGiHadid @YolandaHFoster xo pic.twitter.com/BIBkqA0AVo — Lucy Wegener (@lucy_wegener) September 22, 2016
Gigi Hadid: Self-defense master... Runway model... Industry-leading nipple advocate.
Citations: Gigi Hadid Free Boobs at Fendi After Getting Attacked in Milan (Cosmopolitan)