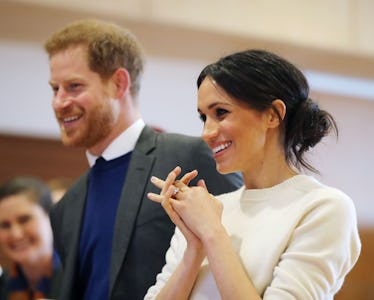 This Detail About Meghan Markle & Prince Harry's Wedding Says So Much About Them
Pool/Getty Images Entertainment/Getty Images
As Meghan Markle prepares to marry Prince Harry in May 2018, she's ironing out all of the details of the wedding. And clearly Markle is playing a large part in deciding exactly the kind of wedding that she wants and how she wants it to look, which is evident with this latest detail we've learned about the nuptials. Meghan Markle and Prince Harry's wedding will have wildflowers, and it's the perfect personal touch that will surely give this wedding so much character.
Kensington Palace released the official statement on April 1 regarding their choice of florist, and the honors went to famed London florist Philippa Craddock. The palace's official Twitter account stated that, "The floral displays in St George's Chapel will be created using locally sourced foliage." The statement added that, "Where possible, Philippa will use flowers and plants that are in season and blooming naturally in May." According to New York Magazine, Craddock is super excited about working with Markle. "The process has been highly collaborative, free-flowing, creative and fun," she told Kensington Palace. The palace explained the decision in using sustainable flowers and said that,
[Royal Parks of London] will supply some pollinator-friendly plants from their wildflower meadows that will be incorporated into the floral designs. These plants provide a great habitat for bees & help to nurture and sustain entire ecosystems by promoting a healthy & biodiverse environment.
Given the significance of this wedding not just for Markle and Prince Harry, but for the rest of the world, it's normal that Markle might want to add touches here and there that display who she is as a person. Which is why using locally sourced, in season, and pollinator-friendly flowers is absolutely perfect. Markle is all about sustainability and environmentalism, as she's detailed in her former blog The Tig. Although she shuttered the blog in April 2017, we still know that she's discussed being passionate about sustainable living.
So clearly it was important for her to make her wedding as environmentally sustainable as possible. I personally don't even think about sustainability when it comes to choosing flowers for a wedding — but after learning this about Markle's wedding I for sure will take this into consideration when (if ever) I plan my own wedding.
Markle didn't just wake up and become a philanthropist out of the blue, either. She's been an advocate for multiple causes long before she met and became engaged to Prince Harry, such as gender equality and women's health care issues. Most notably, she's an advocate with U.N. Women and very proud of it. In November 2016 Markle penned an essay for ELLE UK where she discussed her work with the U.N., saying that, "This type of work is what feeds my soul. The degree to which I can do that both on and off camera is a direct perk of my job." And Markle will get to keep doing that as a member of the royal family when she'll be working with the Royal Foundation, which helps serve veterans and disadvantaged young people.
Markle also reportedly wants to set up her own foundation once she becomes a royal so that she can focus of causes that are deeply important to her. Which is just yet another way that Markle will bring personality into her new position as a member of the British royal family.
I was already a huge fan of the British royals, but I'm even more excited now that Markle is in the mix. I cannot wait to see what she brings to the table as a royal, but I'm even more excited to witness this wedding. I'm sure it will be absolutely stunning.