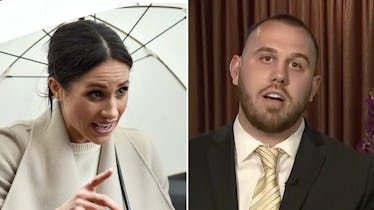 Meghan Markle's Family Members Didn't Get A Wedding Invite & The Interview Is SO Awkward
Charles McQuillan/Getty Images Entertainment/Getty Images & ITV GMB
I don't know what goes into planning a royal wedding, but I assume it's a lot. Prince Harry and Meghan Markle have been busy ordering cake flavors, sending out wedding invitations, and doing everything they can to keep the masses (including the literal Queen) happy. But it looks like some things might have slipped through the cracks because some of Meghan Markle's family members didn't get an invite to the wedding. Markle's nephew and half sister-in-law did an interview with Good Morning Britain to talk about their wedding snub, and it is legit so, so awkward. Way to make this weird, fam.
According to Cosmopolitan, the wedding invitations are officially in the mail and on their way to the lucky folks who are fortunate enough to have made the cut. Apparently, Markle's nephew, Tyler Dooley, is waiting for his golden ticket. Dooley and his mother, Tracy (who was once married to Markle's half-brother, Thomas Markle Jr.), sat down with GMB to talk about how much they "support" her, despite not getting invites.
Dooley and his mom called into the network from their home state, Oregon. Dooley told GMB hosts they haven't ruled out the possibility of receiving an invite, but they're aware chances are slim.
Dooley sort of bumbled,
At this point, it's just, who knows? ... At this point, ya know, again, this all goes back to Meghan. I mean, ultimately, it's her day. It's her happiness.
Yes, that's right. However, he just couldn't help himself and had to throw a little bit of shade.
Dooley added,
Again, we've been here from the very beginning, I mean, her whole life. Just, always rooting her on and supporting her.
Dooley's mom interjected. She said,
Chances are ... I don't think we're going to get the invitations. And, that's just fine. We're OK with that. But, we're supporting her on and having a good time. So proud of her.
Sure. I bet.
According to the report, Good Morning Britain host Richard Madeley asked the son and mother how long it's been since they've seen or spoken with Markle. For Dooley, it's been three years since he last talked with her, and Tracy hasn't seen her in 20 years.
Not one to BS, Madeley responded,
Well then it doesn't seem unreasonable for you not to be invited, does it? I mean, if it's 20 years, you're pretty much on the fringes, aren't you, of the family, to be honest?
To. Be. Honest.
The interviewers also asked what Dooley and Tracy knew about Markle's father and his participation in the wedding. Perhaps obviously, Thomas Markle made the cut, and his family confirmed he will be there.
Tracy told GMB,
I've heard that he's going to be over there, and I'm sure that he will be giving her away. The arrangements are being made... I don't think he's waiting for his invitation, because I'm sure they already have the plans in place, and for me talking to him, he's very excited to be a part of it.
While Thomas was initially quiet about his daughter's famous engagement, he recently made a comment to the public. According to The Sun, he said,
I think it's wonderful, I'm very delighted, I think they're [a] very good match. I'm very happy for them, Meghan and Harry. I love my daughter very much — Harry's a gentleman.
Yes, Harry is a gentleman. Also, a prince, or whatever. Thomas added,
Now leave me alone, please. Don't bother me anymore. No more flashing cameras in my eyes or I'll flash back.
Point taken.
Markle will marry Prince Harry in the wedding of the decade on Saturday, March 19, while me, my mom, and apparently Tyler Dooley will be watching on our TVs.
Check out the entire Gen Why series and other videos on Facebook and the Bustle app across Apple TV, Roku, and Amazon Fire TV.