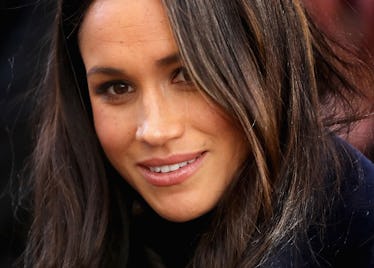 Meghan Markle's Dad Is Low-Key Famous, So We See Where She Gets It
Chris Jackson/Getty Images Entertainment/Getty Images
By now, you've heard about Meghan Markle. She's the finacée of Prince Harry and star of the USA Network series, Suits. The public is quickly learning all about the American actresses, and we are loving every detail. We've heard through the grapevine that her father used to work in show business, leaving a few of us wondering, who is Meghan Markle's dad? Oh, just a casual Emmy-award lighting director, that's who.
Thomas Markle, 73, divorced Meghan's mom in 1988. According to Daily Mail, he now lives in a remote town in Mexico where he's been enjoying retirement. If you ask locals, they'll reportedly tell you he usually says, "Have you heard of Meghan Markle? I am her dad."
His relaxing retirement life in the private Mexican town feels extremely different and far from the royal life Meghan is building with Prince Harry. While his family confirmed he will be attending the wedding in May, Markle told Daily Mail TV, "I can't speak out of respect for my family. I just can't."
Markle has multiple Emmy nominations for his work as a lighting director on television. In fact, he took home the award for Outstanding Achievement in Design Excellence for a Daytime Drama Series in 1982, and the Outstanding Achievement in Lighting Direction for a Drama Series award in 2011. Both wins came from his work on the show General Hospital.
Ramon Moreno, a reported friend of Markle's and the owner of one of his storage units, says he regularly talks about his famous daughter. Moreno told Daily Mail,
He was proud of her when she was in Suits, even before she was with the Prince. I am sure Tom will be there at the wedding. He will want to be there. He will be so happy.
Moreno added, "He loves his daughter very, very much. He says they talk regularly."
In an interview with Vanity Fair, Meghan talked candidly about her relationship with her parents. She said,
My parents had been so supportive watching me audition, trying to make ends meet, taking all the odds-and-ends jobs to pay my bills. I was doing calligraphy, and I was a hostess at a restaurant — and all those things that actors do... My father knew how hard it is for an actor to get work, so he above all people was so proud that I was able to beat the odds.
She also spoke with Esquire in 2013 about hanging out on her father's sets:
Every day after school for 10 years, I was on the set of Married With Children, which is a really funny and perverse place for a little girl in a Catholic school uniform to grow up. There were a lot of times my dad would say, 'Meg, why don't you go and help with the craft services room over there? This is just a little off-color for your 11-year-old eyes.'
Still, that environment must have given her the acting bug. While Markle will be leaving Suits to live with Prince Harry as a royal, she still starred on the show for a full seven seasons before calling it quits.
USA Network wished her and Harry a happy marriage with the following statement:
From all of us at USA Network and Universal Cable Productions, we want to send our most heartfelt congratulations to Meghan Markle and Prince Harry on their engagement.
Meghan has been a member of our family for seven years and it has been a joy to work with her. We want to thank her for her undeniable passion and dedication to Suits, and we wish her the very best.
Their big wedding day is scheduled for May 2018.
Check out the entire Gen Why series and other videos on Facebook and the Bustle app across Apple TV, Roku, and Amazon Fire TV.