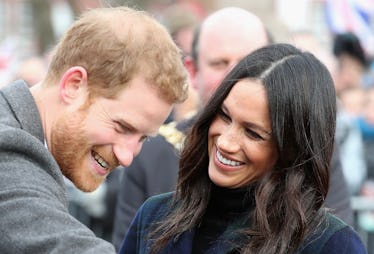 Harry & Meghan Are Inviting The Public To Their Wedding & Here's How To Get An Invite
Chris Jackson/Getty Images Entertainment/Getty Images
Lorde may never be royal, but she could still score an invite to watch Meghan Markle say "I do" to Prince Harry anyway. The couple announced that they are inviting 2,640 people to the grounds of Windsor Castle for a close-up view of their nuptials on May 19. It's a weird number, I know. But it's also kind of a big one. So here's how to get invited to Meghan Markle and Prince Harry's wedding — you know, if you don't have diamonds on your timepiece, and are only driving Cadillacs in your dreams.
See, when the pair first announced their engagement back in November, they promised to try and keep the public involved. Super sweet, right? "They want their wedding day to be shaped so as to allow members of the public to feel part of the celebrations too," reads a statement from Kensington Palace. "This wedding, like all weddings, will be a moment of fun and joy that will reflect the characters and values of the bride and groom."
Translation: The Spice Girls have reportedly been invited to perform, so zig-a-zag-ah!
The statement goes on to explain that the 2,640 people who will be permitted to storm the grounds will get to watch the arrivals of the bride, the groom, and all of their wedding guests, plus they will then get to check out the carriage procession as it departs from the castle.
So who will be in that fortunate 2,640? The group will be made up of 1,200 members of the public from a broad range of ages and backgrounds from "every corner of the United Kingdom" who have shown strong leadership skills and served their communities. There will also be 200 people selected from a range of charities and organizations that Prince Harry and Markle have a close association with, including 100 students chosen from two local schools (The Royal School, Great Park, Windsor, and St George's School, Windsor Castle), 610 Windsor Castle community members, and 530 members of The Royal Households and Crown Estate.
Um... that's all fine and good, but can I come? I don't live in the U.K., I'm not a strong leader, and I haven't really served my community unless you count that time back in middle school when I sold Girl Scout cookies, but I do love weddings and I would totally stand around all day waving a tiny flag, so there's that.
While we wait to see who gets tapped to attend, let's circle back to those Spice Girl rumors for a second. Mel B. recently appeared on The Real, where she copped to the fact that she was invited to the wedding with — brace yourselves — all of the other Spice Girls! And then she kind of, sort of hinted that they may even be performing.
"Maybe you can answer, maybe not. Will the Spice Girls be performing at the reception?" asked co-host Loni Love.
Mel B. looked down at her cue cards and then responded "Ugh, this is where I'm like…" Then she stopped talking and threw the cards up in the air, while the audience went wild. "I need to go," she added. "I'm gonna be fired."
My description definitely did not do the moment justice, so just go ahead and watch:
Pretty epic. I am so here for this royal reunion. And so, of course, was Twitter, which blew up with the news shortly after the episode aired.
TBH, I am totally down for sneaking into this thing. You think security will be tight? LOLOL #JOKES! Seriously though, I think I may give it a go. Who's with me?
For real though, if you can't score an invite, you can probably still check out the celebration from the streets. I'm always down to buy an "I Love Harry & Meghan" t-shirt!