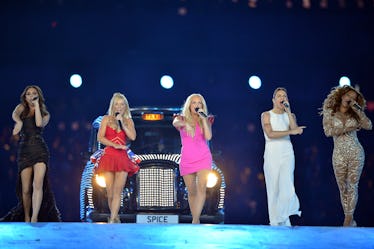 Mel B. Says The Spice Girls Are Performing At The Royal Wedding & Fans Are Losing It
Jeff J Mitchell/Getty Images Sport/Getty Images
Today is an epic day, and I think you all will agree with me when I tell you why. Did you know that Prince Harry and Meghan Markle are getting married? You did? Great. Well, did you know that the Spice Girls are performing at the royal wedding? YES, YOU HEARD ME CORRECTLY, and now we can all officially spice up our life with this news.
As we all know, our favorite ladies have recently made a bit of a comeback. In February, Victoria Beckham (or, as my '90s girls know her, Posh Spice) took to Instagram and showed an updated photo of all of the Spice Girls together, leading many to speculate as to whether or not the gang will be reuniting for a Spice Girls tour. While the answer to that is unconfirmed, we have 100 percent full-on confirmation from Mel B. that the Spice Girls were invited to Prince Harry and Meghan Markle's wedding.
I could literally die of happiness right now.
According to TMZ, Mel B. (Scary Spice, obvi) went on The Real on Tuesday and spoke about how she will be attending the wedding of Prince Harry and Meghan Markle... along with ALL OF THE OTHER SPICE GIRLS. She also says they might actually be performing!
While she doesn't exactly say the words, when asked if the Spice Girls will be performing, she throws up her cards as if to say, "I can't legally say it, but I will shake my head knowingly and throw my hands in the air to convey the message."
And convey the message it did.
After seeing this clip, fans took to Twitter to freak the hell out, because WHY WOULD WE NOT?
As if you didn't want to attend the royal wedding already, knowing that the Spice Girls may be performing is making you think of ways to either become BFF's with Meghan Markle (unlikely) or sneak into the celebration (also, very unlikely):
Man, what I'd give to watch a royal wedding, followed by a legendary performance from my favorite '90s girl band. (Everything. The answer is I'd actually give everything.)
After she (sort of) answered the question about performing at the royal wedding, Mel B. also said, "I need to go. I'm going to get fired," adding, "let's pretend I never said that," and it's my firm belief that she is TOTALLY CONFIRMING OUR BIGGEST HOPES AND DREAMS, PEOPLE.
Knowing all of this information lifts my spirits more than you possibly know, considering we recently heard Victoria Beckham basically crush our dreams when speaking about the possibility of a reunion tour. During her runway show at London Fashion Week, she admitted that the photo she posted to social media that got fans excited for a Spice Girls reunion was much ado about nothing. According to Cosmpolitan, Beckham said:
There is nothing tangible. It was great seeing the girls. Everybody got very excited, but there is no tour, there is no recording.
OK, so maybe there's no confirmation that they're touring again (despite the talk of signed contracts from members), but they might be performing at the royal wedding, so perhaps not all hope is lost.
I mean, look at these lovely women. LOOK AT THEM. They belong in the spotlight once more. They deserve to have a friendship that never ends. We deserve to have the Spice Girls never end.
So I'll tell you what I want, what I really, really, want: Baby. Sporty. Scary. Ginger. Posh.
I want the gang back together. I want the Spice Girls to viva forever. I want to hold up two peace signs in my Steve Madden platforms and live life like we're back in the '90s.
Meghan and Harry, please make this happen. We're all counting on you.