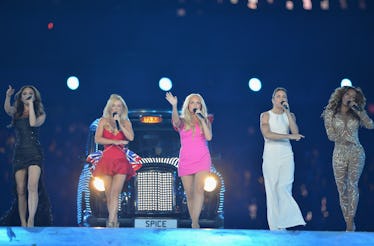 If You're Excited About A Spice Girls Reunion Tour, This Update Will Break Your Heart
Jeff J Mitchell/Getty Images Sport/Getty Images
STOP RIGHT NOW (thank you very much). Do you remember a time when it was reported that a Spice Girls reunion might be in the works? In February 2018, Victoria Beckham (or Posh Spice to all her fans) took to Instagram to post a photo of the five original Spice Girls reunited, and the world rejoiced because it was exactly what we didn't know we needed. Were the girls getting back together again? Should I break out my Steve Madden platforms and my most obnoxious bellbottoms? The world needs to know! Well, Victoria Beckham's response to the Spice Girls going on tour will make you very, very sad, so if you didn't feel like sobbing before, you certainly will after you hear what Beckham had to say.
Beckham spoke about the possibility of a reunion tour during her runway show at London Fashion Week and reportedly admitted that the photo she posted to social media was merely just five friends hangin' out, and nothing more. According to Cosmopolitan, she said,
There is nothing tangible. It was great seeing the girls. Everybody got very excited, but there is no tour, there is no recording.
UM, I'm sorry, what was that? I couldn't hear you over the sound of my heart breaking.
She also reportedly spoke about the Spice Girls and how they can "continue the girl power message":
I think, for us, it's about protecting the legacy, and asking how we continue the girl power message. How do we continue that, and pass it on to future generations? We're just looking at how we pass that message, as opposed to us going on tour or recording or doing a TV show. It's not about that. It's about us looking the legacy and protecting it. And we all feel the same about that.
Why are you doing this to me? Why are you doing this to us?
How can I look at this updated photo of all the Spice Girls and not desperately hope for a reunion tour?
Following the photo, Beckham's publicist Jo Milloy made an official statement to Entertainment Weekly and made it seem that a reunion was quite promising. The statement said that the time felt right to "explore some incredible new opportunities" and to "once again embrace the original essence of The Spice Girls":
How are we supposed to know who is telling the truth here? Are they getting together? Are they just having a friendship that never ends?
I mean, according to TMZ, the girls have signed a contract that suggests our Spice Girls will be reuniting for a tour, with reported documentation of dates and locations of where they'll be touring. Yes.
But then, in an interview with Vogue, Beckham spoke about the reunion rumors and it didn't sound too promising:
I think there's so much that the brand can do, and it's such a positive message for young kids. What does that look like in the future? It's not me in a cat-suit.
No!
Who can we believe, y'all?
We're on our own here, folks.
It's clear that fans are basically begging for a reunion, taking to Twitter to express how #blessed we'd all be if Mel B., Victoria Beckham, Emma Bunton, Melanie C., and Geri Halliwell all came back on stage together:
It is my firm belief that a Spice Girls reunion tour might actually solve world peace.
If Posh is the only one who isn't on board with this whole thing, then we're really counting on the other ladies of the group to convince her otherwise. A Spice Girls tour just wouldn't be complete without our girl Victoria.
We need you, OK? We need all of you.