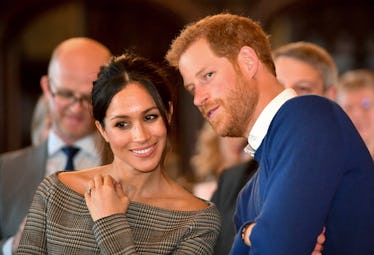 This Detail Could Be A Huge Clue About Meghan Markle & Prince Harry's Wedding Song
WPA Pool/Getty Images Entertainment/Getty Images
Rumor has it Prince Harry and Meghan Markle have asked Ed Sheeran to perform at their wedding. A source told Entertainment Tonight that Sheeran was asked to perform "a few songs" at the wedding, though the source didn't say which songs those would be. "Perfect" and "Thinking Out Loud" would be great options for Meghan Markle and Prince Harry's wedding song, but it's still not confirmed whether or not he actually will be performing. That detail will likely be kept under wraps until the actual wedding happens on May 19. Now, Us Weekly reports that the couple was actually serenaded by a group of singers in Scotland with a song by Ed Sheeran. Was this Harry and Meghan's inspiration to ask Ed Sheeran to perform at their wedding? It seems entirely possible.
Prince Harry and Meghan Markle are spending their second Valentine's Day as a couple in Edinburgh, Scotland. On Feb. 13, the two arrived at Edinburgh Castle (where they'll be staying, obvi, 'cause they're royals) and were greeted by onlookers who wanted a chance to meet the couple as they started their tour of the country. During a sweet moment in the Great Gallery in the Palace of Holyroodhouse, a group of singers of various ages performed Ed Sheeran's "Perfect" for Prince Harry and Meghan Markle, and it apparently nearly brought Markle to tears. Did she tear up because they plan on using "Perfect" as their wedding song?! An onlooker who watched it all go down told Us Weekly, "They just looked speechless. Meghan looked like she was going to cry."
Back in December 2017, Sheeran told Entertainment Tonight that if he was available, he would sing at the royal wedding. But he notes that people ask him all the time if he's friends with Prince Harry, and according to the singer, they don't really know each other. "I get asked this all the time like I know the royal family," he said. "I've met Harry once! [And] that was in 2011 at his grans' Jubilee, and it was like, 'Hey.' 'Hey'... I barely know him!" Barely knowing him wouldn't stop him from performing at the royal reception in May, though.
A source told Us Weekly that the idea for Sheeran to perform apparently came from Harry. "Prince Harry has personally requested Ed perform at his wedding," they said. At an event at Buckingham Palace in December 2017, Sheeran responded "Yeah, why not?" when asked if he would be willing to perform at the wedding. So as long as his schedule permits, it seems highly likely Ed Sheeran will be performing at Prince Harry and Meghan Markle's wedding. Adding the fact that Markle nearly started crying when a choir serenaded her and Harry with the song "Perfect" to this equation makes it seem like the song has a special meaning for the couple. That special meaning paired with the knowledge that the song's creator will be performing it while you have your first dance with your husband would make me sob too, girl! Your life is a goddamn fairytale, Meghan Markle.
Now, there's some speculation that Harry and Meghan would try to get Beyoncé to perform at their wedding along with Sheeran since they sing the "Perfect" duet together, and um, first of all... rude. Beyoncé is not just entertainment; Beyoncé is an esteemed guest! One does not ask Beyoncé just to sing at your wedding. You invite Beyoncé as an honored guest, she attends if she deems the event worthy, and then you sit her next to the Obamas! I feel like this should just be obvious at this point, guys.