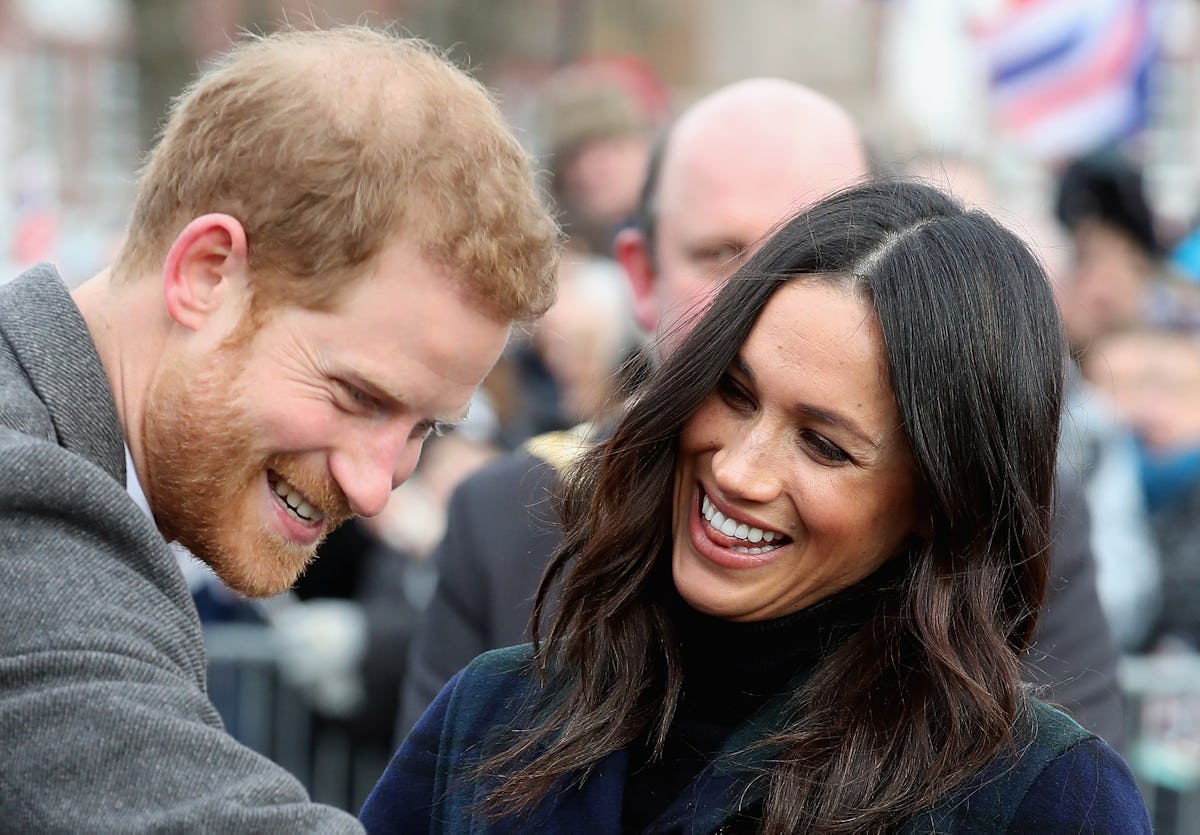 One Of Your Favorite Musicians May Perform At Meghan Markle & Prince Harry's Wedding
Chris Jackson/Getty Images Entertainment/Getty Images
Just "Thinking Out Loud," but do you know who I think would be the "Perfect" singer to perform at Meghan Markle and Prince Harry's wedding at the "Castle On A Hill?" Just "Dive" in and take a guess. Do you need me to show you a "Photograph?" OK, I'm done. Please, don't hate me. However, the question still stands — Will Ed Sheeran perform at Prince Harry and Meghan Markle's wedding, for real? Fans are definitely hoping so. "How Would You Feel" if that happened? Seriously, I'm done now.
Elite Daily reached out to Ed Sheeran's team, but did not hear back by the time of publication.
Entertainment Tonight received word that Sheeran was exclusively asked to perform "a few songs" at the royal wedding on May 19, and fans are pumped. First of all, we can all look forward to the gorgeous wedding of England's most eligible Bachelor and an American actress who's living out the ultimate real-life fairy tale. To top it off — we might get photos of Markle and Harry dancing to Ed Sheeran singing "Perfect." I may faint.
Sheeran has hinted that he would be interested in performing at the royal wedding in the past. On Dec. 7, 2017, Sheeran was asked if he would consider the gig. His response — "Yeah, why not?" Excellent answer, in my opinion.
However, Sheeran's excitement over the opportunity doesn't necessarily prove anything. He did divulge to ET's Keltie Knight that he would play at the royal wedding if "he was free" during an interview at KIIS-FM's iHeartRadio Jingle Ball Presented by Capital One at the Forum in Inglewood. Sheeran did admit that he actually doesn't know Harry very well. He continued,
I get asked this all the time like I know the royal family. I've met Harry once! [And] that was in 2011 at his grans' Jubilee, and it was like, 'Hey.' 'Hey'... I barely know him!
Prince Harry, can you please invite Ed out for a drink or something?
My personal running list of potential performers for the royal wedding include: Ed Sheeran, Adele, Sam Smith, and Harry Styles. Basically, anyone cool, young, and British — just like Prince Harry.
Although, it doesn't get much better than Ed Sheeran. If he included Beyoncé in a live performance of "Perfect" at the wedding — it would be too much talent to handle at one time. Hopefully he doesn't have a hard time contacting her given the fact that she changes her email address every week, according to Sheeran.
However, the two had a great time working together, and their collaboration turned "Perfect" into something truly special. Sheeran talked about working with Beyoncé and breathing new life into the single during an interview with Ellen DeGeneres, saying,
The [original] song came out so long ago in the scheme of music … and I was like, I want to do it as a single, and then I thought of a way of relaunching it. I was like, 'I love Beyoncé. Should I ask Beyoncé?' And then in my head, I was like, 'She's going to say no,' but then I was like, 'Well, you might as well ask.' And she said yeah, so here we are.
The work obviously paid off. In fact, the "Perfect" duet sounds the way it does partly because of Beyoncé's professional input. Sheeran told Entertainment Tonight,
She rung me up and was like, 'I don't know how you feel about this but I've taken all the instruments off it and it's just gonna be acoustic guitar,' and I was like, 'Ah, that's great, because it used to be that!'
How beautiful would Meghan and Harry's first dance be to a live performance of "Perfect" by Sheeran and Beyoncé. My eyes are welling up with tears just thinking about it.
I'm not crying, you're crying. Will Ed Sheeran actually end up performing at Meghan Markle and Prince Harry's wedding? IF THEY HAVE ANY TASTE IN MUSIC — YES, HE WILL. That was extreme, but still true. Whatever they decide, I'm sure it will be amazing.
Check out the entire Gen Why series and other videos on Facebook and the Bustle app across Apple TV, Roku, and Amazon Fire TV.