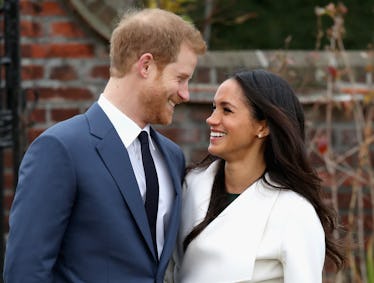 Prince Harry & Meghan Markle's Wedding Guest List May Include Harry's Ex, So That's Fun
Chris Jackson/Getty Images Entertainment/Getty Images
Prince Harry and Meghan Markle are going to be busy as hell from now until May planning their wedding. The couple is set to tie the knot on Saturday, May 19, in St. George's Chapel at Windsor Castle, which means they only have five more months to get everything settled: bridal parties, floral arrangements, the dress, the guest list, everything. Speaking of the guest list, Prince Harry and Meghan Markle's wedding guest list may include one of Harry's exes. If you're worried about how Markle feels about that, don't. She's apparently all for it!
Prince Harry has had a bunch of relationships in his life, but only had two serious long-term relationships before meeting and dating Markle. His longest relationship to date was with Chelsy Davy. The two dated on and off from 2004 to 2011, and Davy was Harry's date to Prince William and Kate Middleton's wedding in 2011. There were some romances after that, but his next serious relationship was with actress Cressida Bonas, whom he dated for two years from 2012 to 2014. Us Weekly reports Prince Harry and Meghan Markle will likely invite Davy to the wedding, as they always remained close friends following their final breakup, but there's reportedly no chance Bonas will be invited. They didn't end on as good of terms as Harry and Davy.
Markle is apparently all for inviting Davy to the wedding since Harry and Davy have always remained close friends.
"Both will be going through the list carefully," a source told Us Weekly. "Don't expect to see Cressida invited — the two didn't remain friends — but do not be surprised if Chelsy shows up with a date. The two have remained friends long after ending their relationship and still keep in touch to this day." The source also revealed Davy was super excited for the couple when they announced their engagement. They said, "[Davy] congratulated him the minute the engagement news was announced. Meghan would have no problem with her being there and Chelsy was on the preliminary list of friends to invite."
Another source told Us Weekly that while the couple is planning on respecting royal weddings traditions, Prince Harry and Meghan Markle are planning their wedding on their own terms. The source told the outlet, "With the wedding, they both want to do things their way." They continued, "While they will always be mindful of traditions, the day is ultimately about them and what they want to do." This source also revealed that Markle has already chosen the designer of her wedding dress (but they didn't reveal who that designer is), and they're apparently planning on making the wedding decorations fairly "clean" and simple, as they feel St. George's Chapel is beautiful enough on its own without being decked out. And yeah, they're not wrong. Photos of St. George's Chapel at Windsor Castle are beautiful. Not much needs to be done here to make things look nice for this wedding.
This is what the interior of St. George's Chapel at Windsor Castle looks like.
This is "The Nave" in St. George's Chapel where Prince Edward and Sophie Rhys-Jones got married in 1999, and could possibly be where Prince Harry and Markle have decided to have their ceremony.
Prince Edward is Prince Harry and Prince William's uncle, the youngest son of Queen Elizabeth II and Prince Philip.
When it comes to what jewelry Markle might wear on her wedding day, it's possible she'll wear a tiara, but she can't wear one before then. According to royal etiquette, unmarried women can't wear tiaras, so Markle likely won't be seen wearing one until she and Harry are married, The Mirror reports. But Kate Middleton was able to wear one on her wedding day as that was the day she became a married woman, so it's totally possible Markle will be allowed to do the same thing.