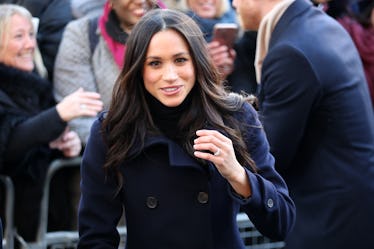 Meghan Markle Reportedly Breaks Tradition Again By Choosing A Maid Of Honor
Chris Jackson/Getty Images Entertainment/Getty Images
Meghan Markle is throwing some British traditions to the wind with her wedding to Prince Harry. According to reports, the future royal has chosen a Maid of Honor. Royal weddings usually have "chief bridesmaids," not Maids of Honor, and royal bridal parties have traditionally consisted of just children. So it looks like Markle is looking to include some American traditions into her English wedding. The name of Meghan Markle's Maid of Honor pick hasn't been announced yet.
While royal weddings do have bridesmaids, those bridesmaids are usually children, according to Town & Country. So Kate Middleton broke tradition at her wedding to Prince William when she had her sister, Pippa, in her bridal party. Royal weddings don't have Maids of Honor, however, so the fact that Markle is choosing to have one is definitely a new thing for the royal family. It's not clear whether or not Markle will have adult bridesmaids. Previously, royal experts predicted Markle wouldn't be allowed to have adult bridesmaids because tradition called for something else. But seeing as Markle asked her mother to walk her down the aisle and has now added some American traditions to the wedding, it looks like the royal family is OK with Markle bending the typical royal wedding plans.
A source told Us Weekly we can expect to see American traditions thrown into this wedding. "I've heard that Meghan wants her mother to walk her down the aisle, which would be a sweet moment," they said. "And while it is very much a British wedding, expect a few American touches too. She's not picked a chief bridesmaid, she's chosen a maid of honor." They also said,
The day of the wedding itself will certainly hold a few unconventional surprises. Don't expect a royal wedding by numbers. They want to involve their friends and family as much in as much as possible throughout the day.
Friends like Serena Williams, maybe?! Please, Meghan, put Serena Williams in your wedding!! Markle, being an actress, has a bunch of famous friends who could possibly be part of the bridal party now that she's made it clear she's down to break tradition. She's been friends with Serena Williams and Priyanka Chopra for years, and she's also really close friends with her former Suits co-star Sarah Rafferty. Prince Harry's famous friends include Barack and Michelle Obama (!!!), and he's apparently already informed his aides that he wants them invited to the wedding in May, despite the fact that Trump would most likely lose his sh*t.
When it comes to bridal party traditions in royal weddings, British royalty expert Marlene Koenig told Town & Country Markle's choices might be "unusual." She continued,
It would be unusual for a royal bride to have a woman in her late 30s as a maid or matron of honor. The Duchess of Cambridge having her sister, Pippa, was unusual. I would be less surprised, however, if one of [Meghan's] friends read a lesson during the service.
Prince Harry and Meghan Markle have always been ones to break tradition, though. These wedding planning details are obviously a more lighthearted example, but during the early stages of their relationship, Prince Harry broke tradition by issuing an official statement basically asking the media to back off Markle. There had reportedly been lots of false and harmful information being written about Markle that Prince Harry said had racist and sexist tendencies. He said in his statement that it made him fearful he's not able to protect her. Royals rarely issue public statements about their relationships that aren't something like an engagement or pregnancy announcement, so it's clear these two are fine with changing things up.
Prince Harry and Meghan Markle's official wedding date is Saturday, May 19, 2018. Kensington Palace announced it will be held at St. George's Chapel at Windsor Castle.