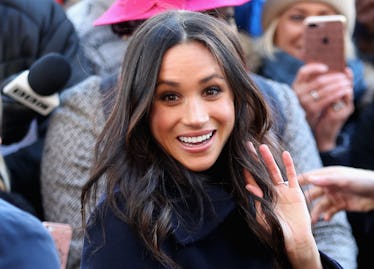 Meghan Markle May Break Tradition To Have This Special Person Walk Her Down The Aisle
Chris Jackson/Getty Images Entertainment/Getty Images
Meghan Markle and Prince Harry just took a romantic trip to the French Riviera to celebrate New Year's, but now that they're back, it's time to get on that wedding planning! Kensington Palace announced on Dec. 15 that the official wedding date for the royals is May 19, 2018. As previously reported, it will be held at St. George's Chapel at Windsor Castle. That's less than half a year away, people!! Since they have to get to planning ASAP for this massive event, who is walking Meghan Markle down the aisle? According to reports, the former actress is planning on breaking tradition and having her mother walk her down instead of her father.
Yup, according to E! News, Markle has asked her mother, Doria Ragland (whom she's famously close with), to walk her down the aisle instead of her father, Thomas Markle. Her parents got divorced when she was 6 years old, and she's spoken about her closeness to her mother a lot in past interviews, so this decision makes sense. It doesn't necessarily mean she has ill will toward her father, however. While it is traditional for women to be walked down the aisle by their fathers, there are a sh*t ton of things that are antiquated as hell about marriage (remember when marriage was basically just the buying and selling of women for societal upward movement? LOL!). For me, there's no good reason a mother can't walk her daughter down the aisle. So good for Meghan and Doria!
When the news of Prince Harry and Meghan Markle's engagement first broke, Thomas Markle responded to Meghan Markle's engagement news by telling The Mirror, "Yes. I'd love to [walk Markle down the aisle]." It's not known what his response to her asking Ragland to walk her down the aisle was, if he had one. This might make people believe some of the rumors that Markle is estranged from her father's side of the family, as evidenced by a comment Prince Harry made when talking about Markle's family and how she handled her first royal Christmas.
In an interview with BBC 4 Radio Today, Prince Harry said Markle loved spending Christmas with his family partially because it was like being with the "family she never had." There have been rumors that Markle is estranged from her half-sister, Samantha Markle, and their father's side of the family, but Samantha responded to her future brother-in-law's comment saying his comment wasn't true. Prince Harry said,
There's always that family part of Christmas [where] there's always that work element there as well, and I think together we had an amazing time. We had great fun staying with my brother and sister-in-law and running round with the kids. Christmas was fantastic ... She's done an absolutely amazing job, she's getting in there and it's the family that I suppose she's never had.
Samantha Markle responded to his comment via Twitter on Dec. 27 saying, "She has a large family. She always did. Our dad is amazing and completely self sacrificing. We made it so she had two houses. How fun it was!" She added in other tweets,
Actually she has a large family who were always there with her and for her. Our household was very normal and when dad and Doria divorced, we all made it so it was like she had two houses. No one was estranged, she was just too busy. Read my book complete with facts and photos... Meg's family (our family) is complete with sister, brother, aunts, uncles, cousins, and the glue of our family, our amazing completely self-sacrificing father. She always had this family,..Marrying merely extends it.
Samantha Markle has since made her Twitter account private and appears to have deleted the tweets.