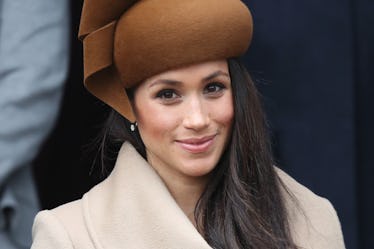 Meghan Markle's Sister Fires Back At Prince Harry Over This Comment About Her Family
Chris Jackson/Getty Images Entertainment/Getty Images
Prince Harry and Meghan Markle just spent their first Christmas together, breaking royal tradition that dictated only spouses are invited to Sandringham for Christmas with Queen Elizabeth and the rest of the extended family. In an interview following Christmas, Prince Harry said he and Markle had a wonderful time. He made one comment, however, that didn't sit well with Meghan Markle's half-sister, Samantha Markle. Meghan Markle's sister responded to Prince Harry's quote about her family, and it's clear she didn't think the comment was that great.
In said interview with Radio 4 Today, Prince Harry said, "There's always that family part of Christmas [where] there's always that work element there as well, and I think together we had an amazing time. We had great fun staying with my brother and sister-in-law and running round with the kids. Christmas was fantastic ... She's done an absolutely amazing job, she's getting in there and it's the family that I suppose she's never had." That remark about Markle's family is what Samantha Markle responded to. In a tweet, she said, "She has a large family. She always did. Our dad is amazing and completely self sacrificing. We made it so she had two houses. How fun it was!"
In other tweets, she said, "Actually she has a large family who were always there with her and for her. Our household was very normal and when dad and Doria divorced, we all made it so it was like she had two houses. No one was estranged ,she was just too busy. Read my book complete with facts and photos." She added, "Meg's family(our family) is complete with sister, brother, aunts, uncles, cousins, and the glue of our family, our amazing completely self-sacrificing father. She always had this family,..Marrying merely extends it."
Samantha Markle and Prince Harry have apparently never met. And while these comments might seem like there's some bad blood between the Markles and the royals, I really doubt there is. What I get from these tweets is Markle's sister trying to harmlessly provide context to a statement her future brother-in-law made about her family that she, from her perspective, didn't think was entirely correct. Though reports say Samantha and Meghan are estranged half-sisters, Samantha appeared on Good Morning Britain the day after the engagement was announced to comment on her sister's news.
She's literally the definition of pleasant in this video, so I have a hard time believing there's bad blood among these people.
In the interview, she expressed how "elated" the family is for Meghan and how happy their father is, especially. Meghan said in her and Prince Harry's interview the day their engagement was announced that her father, Tom Markle, has spoken to the prince a few times but hasn't had the chance to meet him face-to-face yet. I'm sure that will change soon! Samantha also squashed any rumors that their family history is tumultuous, saying those rumors were created by the media.
In a rare royal family move, Prince Harry released a statement back when they were dating asking the media to basically back off of Meghan Markle. Part of the statement from Nov. 8, 2016, read,
Meghan Markle, has been subject to a wave of abuse and harassment. Some of this has been very public - the smear on the front page of a national newspaper; the racial undertones of comment pieces; and the outright sexism and racism of social media trolls and web article comments ... Prince Harry is worried about Ms. Markle's safety and is deeply disappointed that he has not been able to protect her. It is not right that a few months into a relationship with him that Ms. Markle should be subjected to such a storm. He knows commentators will say this is 'the price she has to pay' and that 'this is all part of the game'. He strongly disagrees. This is not a game - it is her life and his.
Based on this, it's safe to say the media has said some incorrect things about Markle in the past. So it's not entirely impossible that there have been false stories released about Markle's family.
He said, "She really enjoyed it. The family loved having her there. You know, there's always that family part of Christmas, there's always that work element as well. And I think together we had an amazing time. We had great fun staying with my brother and sister-in-law and running around with the kids. Christmas was fantastic." He continued,
And as I said we're really looking forward to new year, and looking forward to 2018 because, you know, I'm determined to make sure that myself and the young generation, everybody else, this pendulum is going to swing and 2018 is going to be a fantastic year, and we all need to play our part.
Prince Harry's comments about Markle's family came when he was asked about his own. The BBC interviewer asked him if there were any family traditions he had to explain to Markle. That's when he responded, "Oh, plenty. I've got one of the biggest families that I know of, and every family is complex as well, so no, she's done an absolutely amazing job. She's getting in there and you know it's the family I suppose she never had." Welp, not according to Samantha Markle!