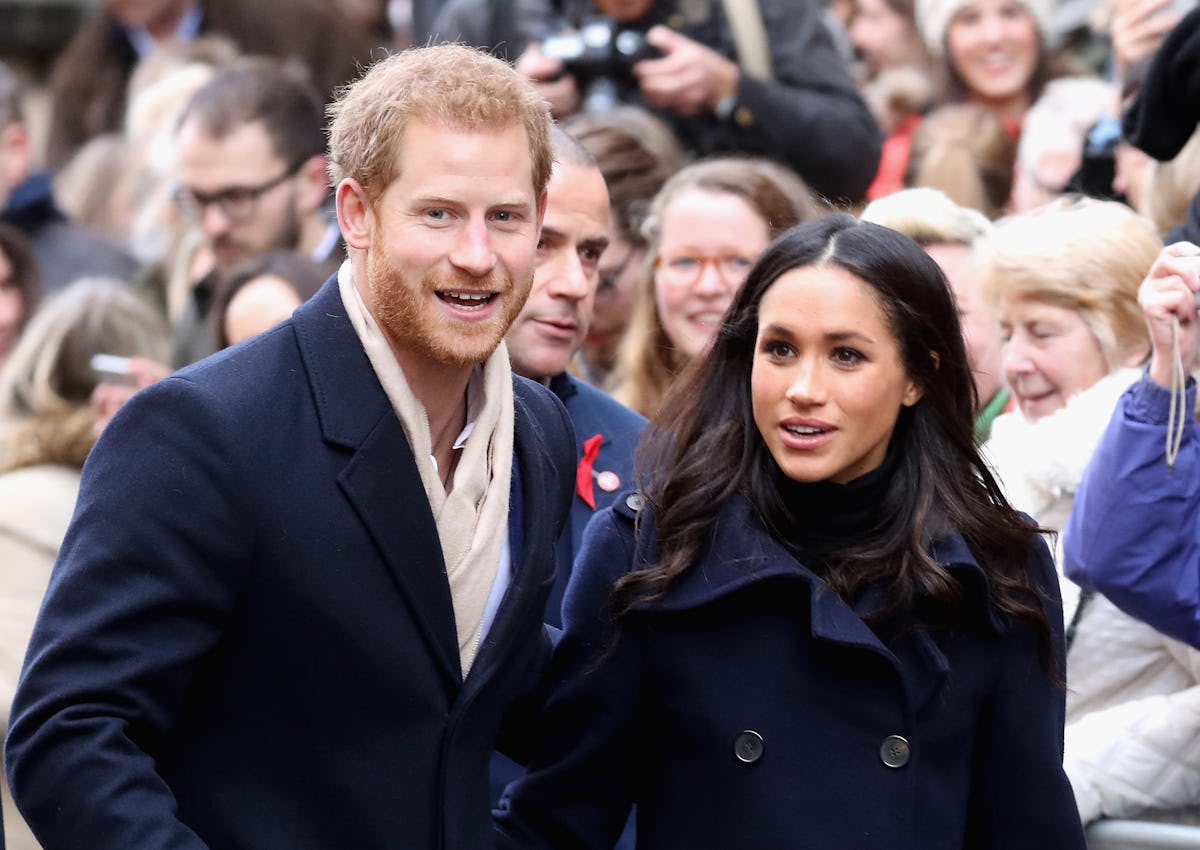 Prince Harry Shared Some Details About His First Christmas With Meghan Markle & I'm Crying
Chris Jackson/Getty Images Entertainment/Getty Images
Christmas might be over, but Prince Harry and Meghan Markle are like the gift that keeps on giving. And because these two are like the couple that everybody wishes they knew (or, let's be honest, everybody wishes they were), it's safe to say that every little insight into their life is something that we all cherish. So when Prince Harry talked about spending his first Christmas with Meghan Markle and the royal family, the world basically gave him a round of applause because what he had to say was downright adorable. I'm sorry, but when Prince Harry says his first Chritsmas with Meghan Markle was "fantastic", you better be prepared for hearts all over the world to melt.
But of course that's not all he said. In fact, that's just the bare minimum of what he said when talking to BBC Radio 4's flagship Today show, where he is currently serving as a guest editor. In his interview, he was asked what it was like to spend the first Christmas with both Meghan Markle and the royal family.
And – fair warning here – prepare for your heart to explode, because Prince Harry had nothing but adorable things to say. In regards to Meghan Markle's first Christmas with her future in-laws, he said:
Oh, it was fantastic ... she really enjoyed it. The family loved having her there.
He later went on to say,
Together we had an amazing time, we had great fun staying with my brother and sister-in-law and running around with the kids.
Can we all just take a moment to envision Prince Harry, Meghan Markle, Prince William, and the Duchess of Cambridge all getting together? Do they play Scrabble? Charades? Or do they just sit around all admiring how perfect and beautiful they are? Oh, to be a fly on the wall in that room.
Prince Harry then spoke further about how 2018 is going to be a "fantastic year":
Christmas was fantastic and as I said we're really looking forward to new year, and looking forward to 2018 because, you know, I'm determined to make sure that myself and the young generation, everybody else, this pendulum is going to swing and 2018 is going to be a fantastic year, and we all need to play our part.
You can see (and hear his fantastic British accent) in the clip below, and honestly it's sort of making me swoon:
And, in case you didn't know, the fact that Meghan Markle spent Christmas with the royal family is a big freaking deal because it technically breaks royal tradition from past Christmas celebrations. I mean, Kate Middleton wasn't even allowed to spend Christmas day with Prince William back in 2010 when the pair were only engaged, so I can only imagine that she was like "Wait, what?" when she found out that Queen Elizabeth allowed Markle to come celebrate with the family before the two married.
Just kidding, the Queen can do whatever she wants.
Clearly, this Christmas was memorable for the entire royal family and, by default, for me too (I know, I know. I'm not a part of the royal family but I feel like I am, so deal with it).
The fact that Prince Harry is so over-the-moon in love with Meghan Markle just warms my cold, dead heart. In an interview with BBC, he talked about how introducing Markle to the royal family was "exciting" and talked about how his brother was anxiously awaiting to meet her. He said,
It was exciting! I'd been seeing her for a period of time when I literally didn't tell anybody at all, and then William was longing to meet her, and so was Catherine. They're our neighbors, so we've managed to get that in quite a few times now . . . Catherine's been absolutely amazing, as has William, as well, you know, a fantastic support.
Well, there you have it folks. In case you didn't want to be a part of the royal family, I bet you do now.