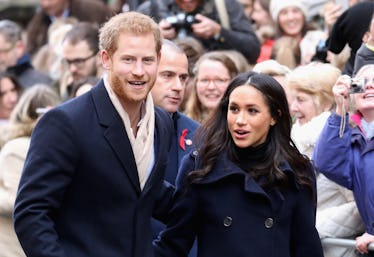 Meghan Markle's Famous Friends Probably Can't Be Her Bridesmaids, So That Sucks
Chris Jackson/Getty Images Entertainment/Getty Images
Prince Harry and Meghan Markle's royal wedding feels like it's right around the corner already. The couple's engagement was announced Monday, Nov. 27, saying the wedding was set to take place in spring 2018. Just a day later, Kensington Palace announced the wedding will be in May 2018 at St. George's Chapel at Windsor Castle. But what do royal wedding bridal parties look like? Will Meghan Markle have bridesmaids? Will Prince Harry have groomsmen? The answer isn't exactly what we'd probably expect from a typical American marriage. Since royal weddings are steeped with heavy tradition, Markle will probably have to forego a few American wedding traditions in order to accommodate her new gig as English royalty.
Being an actress, Meghan Markle has some famous friends. She's good pals with Quantico star Priyanka Chopra, tennis champ Serena Williams, and Suits co-star Sarah Rafferty, but it's unlikely that they'll be able to stand at Markle's side in matching gowns come May 2018. According to Town & Country, it's rare for a royal bride to have bridesmaids that are her own age. In fact, it was weird that Kate Middleton had her sister, Pippa, stand by her side on her wedding day, and that's her sister. So yeah, let's not hold our breath to see Priyanka Chopra and Serena Williams walking down the aisle on the day of the wedding.
A British royalty expert, Marlene Koenig, told Town & Country that it's unlikely Markle will have adult bridesmaids.
She said,
Most royal brides do not have adult bridesmaids. It would be unusual for a royal bride to have a woman in her late 30s as a maid or matron of honor. The Duchess of Cambridge having her sister, Pippa, was unusual. I would be less surprised, however, if one of [Meghan's] friends read a lesson during the service.
Queen Elizabeth actually bent tradition a bit when she married Prince Philip in 1947. Koenig said, "The youngest bridesmaid was her cousin, Princess Alexandra, who was approaching her 10th birthday, plus two small page boys, Prince William of Gloucester and Prince Michael of Kent. If you look at the royal weddings since Elizabeth's, you will find that most of the bridesmaids are early teens or children." OK, cool. Got it. So that means Prince George and Princess Charlotte are more likely to be in the wedding party than Serena Williams. It makes sense, but that doesn't make it hurt less! The bright side is Williams, Chopra, and Rafferty will most likely attend as guests, and I don't know about you guys, but the thought of Serena Williams in a fascinator hat sounds majestic to me.
You know who else will probably attend as guests? The Obamas.
Prince Harry and Barack and Michelle Obama have been buddies for a while. In fact, when the royal engagement was announced, Obama tweeted his congratulations to his friend. He said, "Michelle and I are delighted to congratulate Prince Harry and Meghan Markle on their engagement. We wish you a lifetime of joy and happiness together." You can bet that Twitter found a way to troll Donald Trump in light of this. Considering Prince Harry and the Obamas are good pals and Trump, well, is Trump, it's totally possible he and Melania won't be invited to the wedding.
Twitter knows this, so they trolled Trump for it.
God, I love the internet.
His Royal Highness The Prince of Wales is delighted to announce the engagement of Prince Harry to Ms. Meghan Markle. The wedding will take place in Spring 2018. Further details about the wedding day will be announced in due course. His Royal Highness and Ms. Markle became engaged in London earlier this month. Prince Harry has informed Her Majesty The Queen and other close members of his family. Prince Harry has also sought and received the blessing of Ms. Markle's parents. The couple will live in Nottingham Cottage at Kensington Palace.
Now I just need to figure out how to get myself invited... Do you think Queen Elizabeth reads her DMs?