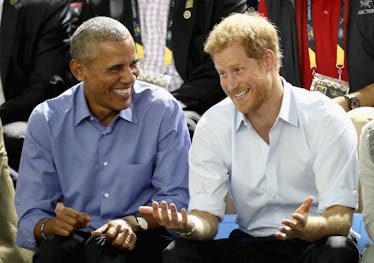 Obama Had The Sweetest Message For Prince Harry & Meghan Markle On Their Engagement
Chris Jackson/Getty Images Entertainment/Getty Images
Barack Obama has so many legendary bromances that sometimes it's kind of hard to keep track. Among them are: Joe Biden (duh), Justin Trudeau (*sigh*), and everyone's favorite cheeky royal Prince Harry. And with the announcement of Harry's impending marriage, Obama's tweet about Prince Harry and Meghan Markle's engagement is pure, delightful, bromantic bliss.
On Nov. 27, the Prince of Wales (aka father of William and Harry) announced the couple's engagement via a delightfully formal press release. It read in part,
His Royal Highness and Ms. Markle became engaged in London earlier this month. Prince Harry has informed Her Majesty The Queen and other close members of his family. Prince Harry has also sought and received the blessing of Ms Markle's parents.
The world immediately experienced a collective series of heart flutters, along with a slew of very urgent, unanswered questions. When exactly will the wedding be? The press release said spring, but that's too vague. Also, what will she wear? What will he wear? Who will attend? Can we attend?
Amidst all this, our former president Barack Obama stepped in to extend his congratulations, and the whole thing got 100 times more fun. You see, Prince Harry and Obama have hung out multiple times and seem to truly enjoy one another's company. Their friendship might just be the best thing happening in 2017.
Ahhh, what a beautiful sentiment. It's made even better by the fact that there's a good chance the Obamas might actually be invited at the wedding.
I mean, just look at the two of them.
The duo was spotted together on Oct. 2 during the Invictus Games, a paralympic sporting event, looking delightfully chummy. According to a source, Obama reportedly got Harry to chat about Markle during their hang time.
"Obama asked about Meghan and Harry let him know she had been to watch the tennis with him," Hayley Stover, who sat next to Prince Harry during the Invictus Games, told the Mirror. "He asked if she was enjoying the Games and Harry was really smiling as he said yes. He looked so happy. It was cute."
Dawwww.
The two also joined forces to create a hilarious promo for the Invictus Games back in 2016, which involved Harry doing a mic drop and the Queen flexing her comedic skills. Be still all of our hearts.
Let's not forget about Michelle Obama, by the way. The former first lady appears to be just as tight with the prince as her husband is. On Oct. 31, the two surprised a group of students at Hyde Park Academy, a high school in Chicago and, according to a statement from Kensington Palace, engaged in a "warm and wide-ranging conversation, lasting over an hour."
Oh yeah, and the pictures were so, so delightful.
Obviously, it will be hilarious and deeply gratifying if the Obamas make the wedding guest list and Donald Trump does not. You just know how much he will hate, hate, HATE that.
While Prince Harry hasn't spoken out against Trump's presidency, his soon-to-be wife Markle certainly has. During a May 2016 interview on The Nightly Show with Larry Wilmore, Markle said of the then-candidate's nomination for the presidency,
It's really the moment that I go, we film Suits in Toronto and I might just stay in Canada. I mean come on, if that's reality we are talking about, come on, that is a game changer in terms of how we move in the world here.
"I think it was in 2012, the Republican Party lost the female vote by 12 points," she added. "That's a huge number and as misogynistic as Trump is and so vocal about it, that's a huge chunk of it."
Yup, definitely doesn't sound like Trump will be getting an invite. Sorry not sorry on that one. Meanwhile, here's hoping for so, so many double date pictures between the Obamas, Prince Harry, and Meghan Markle. The world needs it.