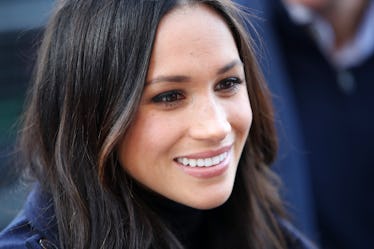 This Detail In Meghan Markle's Resume Shows She Was Destined For International Affairs
Chris Jackson/Getty Images Entertainment/Getty Images
Meghan Markle should be no stranger to you by now. Ever since she announced her engagement to Prince Harry on Nov. 27, 2017, new (and impressive) details about the Suits actress have been pouring in daily. You'll likely admire this soon-to-be royal even more once you learn that Meghan Markle worked at the U.S. Embassy in Buenos Aires.
Markle attended Northwestern University where she double-majored in theater and international relations. It looks like being an overachiever is engrained in Markle because she had completed most of her school credits by the end of her junior year, according to her 2013 interview with Marie Claire. That left her with the ability to accept an internship at the U.S. Embassy in Buenos Aires during her senior year before graduating from Northwestern's School of Communication in 2003.
Markle recounted to Marie Claire that she was in Buenos Aires at the time of their economic devaluation in 2002. At the time, U.S. Secretary of Treasury Paul O'Neill was in Argentina, and she remembers being just 20 years old and riding in the motorcades, thinking that she would "for sure have a career in politics" — she's got my vote.
Markle agreed with a message that said "We need more women leaders" in an August 2015 tweet.
While the details of Markle's specific duties during the internship are unknown, there is no doubt that she was there during an extremely tumultuous time for Argentina's economy. An Economist article from Feb. 28, 2002 outlined the financial trouble of the nation. Put simply, the government had to devalue the Argentine peso, which had previously been valued at 1-to-1 with the U.S. dollar since 1991. The devaluation, which was the time when Markle was an intern in Buenos Aires, saw the peso drop to 40 percent of it's value, brining it to 1.4-to-1 with the U.S. dollar, according to a 2002 CNN article.
I don't want to delve too deep in the economic crisis (mostly because it resembles those word problems that migraines are made of), but it goes to show that no matter what Markle's duties were during this time, she likely had a front-row seat to real-time attempts made by the government to salvage Argentina's economy. She really went all-in on that theater and international relations double major.
She shared a photo from her philanthropic travels on her Twitter page in October 2016.
Even though Markle was only an intern for a few months, it appears that civic involvement and tackling important social issues were always important aspects of her life. In a post on her alma mater's website, Northwestern Now, Markle's former theater professor, Harvey Young, recounts that Markle was always "passionate about women's rights." Young also shared that she was in his class about works authored by African-American playwrights, and Markle (being biracial herself) had an innate awareness about the importance of understanding experiences of people of different races and backgrounds.
More than a decade after her time with the U.S. Embassy, Markle was again flexing her political activism muscle when she visited the Gihembe refugee camp in Rwanda in 2015 as an advocate for UN Women (which is the United Nations Entity for Gender Equality and the Empowerment of Women), according to an essay she penned for ELLE UK in 2016. Markle was there to meet with female parliamentarians in the city's capital, Kigali, and to celebrate that fact that the Rwandan government was the first in the world to see women hold a majority of the positions (Who run the world?).
Markle wrote about women's rights in a piece for TIME in March 2017.
It appears that her fervor for activism and civic interest hasn't waned since her senior year at Northwestern. In fact, it seems to have continued growing throughout her life — she's definitely role-model material. Harper's Bazaar detailed some of the ways that Markle is impacting change, and they included her support of the Rwandan Clean Water Campaign in 2016, her work as a Global Ambassador for World Vision (a global relief and advocacy organization), and her early activism at the age of 11 when she fought for language of equality in a dishwasher soap commercial and actually convinced the brand to change their message.
Unsurprisingly, there are far too many instances of Markle's shining activism and philanthropy to recount here. Combining that with her firsthand knowledge of international relations has definitely prepared Markle to enter the global stage leading up to and following the May 19, 2018 wedding of her and Prince Harry. The royals definitely snagged a more-than-qualified addition to their family.
Check out the entire Gen Why series and other videos on Facebook and the Bustle app across Apple TV, Roku, and Amazon Fire TV.
6knPvLI5