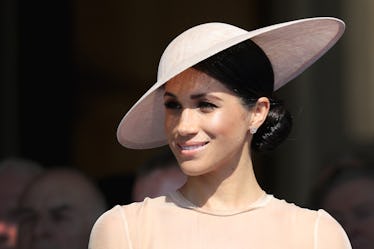 People Are Slamming Meghan Markle For Her Latest Outfit & Can We Just Let Her Live
Chris Jackson/Getty Images Entertainment/Getty Images
If there's one thing that really gets me riled up, it's the running pearl-clutching commentary about what women wear. But, sadly, as long as the Internet is around, we can rely on folks calling women out for their fashion choices. No woman is above it, not even newly-minted members of the royal family. Meghan Markle's latest dress has some people pissed, and can we just let her live? It's enough already.
For Markle's first Trooping the Colour ceremony on June 9, she showed up — alongside her new husband, Prince Harry — in a pale pink Carolina Herrera dress. The annual ceremony marks the birthday of Queen Elizabeth, and is a celebration for military troops to show off their flags as they parade through Buckingham Palace square, according to Fox News. While Markle looked happy (and gorgeous) to be celebrating with the royal family in London, the festivities were quickly soured by people calling the Duchess of Sussex's outfit "inappropriate" on Twitter.
I bet you can't guess why the outfit was deemed so scandalous for such an event. It's okay, I'll tell you: because of it was off-the-shoulder. How dare she expose her shoulders like that, out there in public for the world to see?! Truly unbelievable.
So let me get this straight, wearing an off-the-shoulder dress is pushing the limits?
Yawn.
But some of the comments were worse, and even referred to Markle as sleazy.
For real? This is truly exhausting.
Thankfully, there were an overwhelming number of people who came to Markle's defense to say how ridiculous it is to be bothered by a women's exposed shoulders.
Leave her alone. Not only is there nothing wrong with Markle's dress, but why are people so keen on nitpicking on what women wear? Markle has been a staunch advocate for women's rights since she was 11. She's been an advocate for UN Women, and has made it clear that as a member of the royal family she will use her position to continue her work promoting women's empowerment. But we're still talking about her shoulders not being covered? I say "still" because this isn't even the first time that Markle's shoulders have been in the spotlight.
Back in April, Markle attended the Commonwealth Youth Forum in London. She wore a sleeveless midi pinstripe dress, with a blazer over her shoulders that she removed once inside. Most women consider a sleeveless midi a pretty conservative look and appropriate for lots of occasions (I myself have strutted out in a similar look for dates, brunches, trips to pick up some pizza when I pretended to be coming from somewhere else), but apparently not for some almost-in-the-royal-family duties. People on Twitter were quick to call Markle out on her exposed shoulders that time too, according to Refinery29.
Excuse me, @striamia, if you spot someone at Coachella wearing a pinstripe midi, you come find me.
Thankfully, one Twitter user pointed out that there seems to be a long history of the Queen herself sporting some sleeveless looks.
The fact that people would waste their time calling Markle — or any other woman — out for exposed shoulders is just ridiculous. First of all, I'm sure that members of the royal family don't just pick outfits out of their closets and roll out. These events are big public deals, and I don't doubt for a second that if anyone who counts thought that Markle's outfit was inappropriate it would have been nixed before she went out in public. Regardless, just let her and her shoulders be, already. Okay? Thanks.