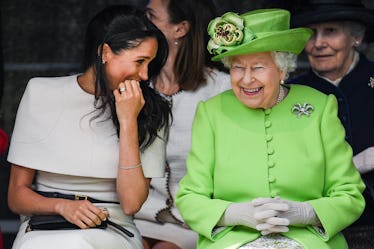 The Queen Gifted Meghan Markle New Earrings For Their Solo Trip & Damn, Where Are Mine?
Jeff J Mitchell/Getty Images Entertainment/Getty Images
The latest royal BFFs Queen Elizabeth II and former Suits actress Meghan Markle took their first solo trip together on Thursday, June 14. The pair made their way through northwest England side-by-side for a series of royal engagements and looked absolutely dashing walking together. But what you may not have known was that Queen Elizabeth gave Meghan Markle new earrings for the occasion. The regal accessories were a lovely pair of pearl and diamond drop earrings, which look like a smaller version of what the Queen sported that same day, according to People.
In terms of fashion, the royals seldom disappoint. For this outing, the monarch opted for a bright, lime green suit dress by Stewart Parvin, pairing it with a matching floral hat by Rachel Trevor Morgan. The Duchess of Sussex wore a cream Givenchy pencil dress with a cape top, covering her upper arms. The dress also featured a black and gold belt.
For their footwear, both wore black, with Markle rocking leather stilettos, and the 92-year-old wearing a more conservative (and likely comfortable) black loafer.
On their first official outing together, the pair met with architects, urban planners, and others from the community prior to the Queen formally opening the Mersey Gateway Bridge. Markle and the Queen also enjoyed an adorable performance by school children; headed to Storyhouse, a new theater; met a Syrian settlement group; watched a performance by dancers from the Fallen Angels; and even more. Finally, they wrapped up by having lunch at Chester Town Hall with locals from the area.
Meghan Markle was first introduced to the Queen last September, after Prince Harry and she returned from a three-week vacation in Botswana and Zambia, US Weekly reported. Since then, she's quickly blended in as a member of the British royal family, rapidly learning as much royal protocol as possible since officially marrying Prince Harry on May 19, 2018. A source even claimed to the publication that, despite the couples very distinct upbringings, there was no sense of division.
"She fits perfectly into the family," the source claimed. "The difference in backgrounds means absolutely nothing."
The same source later claimed Markle "gets on fabulously" with Prince Charles and Camilla as well.
A month after meeting her now-grandmother-in-law, Markle covered Vanity Fair's October 2017 issue. Inside, she gushed about her newfound love and how she was dealing with the constant media battering once the pair went public.
"At the end of the day I think it's really simple. We're two people who are really happy and in love," the 36-year-old told the publication.
She continued that she and Harry kept their relationship under wraps "for about six months" before everything became public knowledge. "I was working during that whole time, and the only thing that changed was people's perception," she said. "Nothing about me changed. I'm still the same person that I am, and I've never defined myself by my relationship."
When asked about how the public's perception has changed her life, Markle was refreshingly honest, explaining that her circle keeps her grounded and admitting that she doesn't read the press.
"It has its challenges, and it comes in waves — some days it can feel more challenging than others," Markle shared withVanity Fair. "And right out of the gate it was surprising the way things changed. But I still have this support system all around me, and, of course, my boyfriend's support."
Obviously, being a royal isn't all glitz and glamour. As Markle has said herself, it comes with its setbacks. Along with the media scrutiny, having to follow a new set of fashion rules, and not having access to a personal social media account, it can likely even feel a bit isolating. Thankfully, Markle has the clear support of the Queen herself, along with her own family, her new British family, and millions of fans to always keep her uplifted.