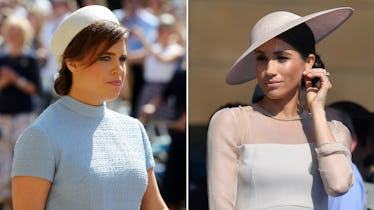 Meghan Markle Still Can't Have An Instagram Even Though This Royal Has One & I'm So Mad
WPA Pool/Getty Images Entertainment/Getty Images
Being royalty has its perks (clearly), but there are some things that royals simply can't do because of their status. Case in point: Social media. When Meghan Markle, Duchess of Sussex became engaged to Prince Harry, Duke of Sussex, she deleted her social media accounts just a few months later. It's sort of an unwritten rule that royalty had to stay away from posting on sites like Twitter and Instagram, because let's face it: A prince or princess should *probably* avoid late-night drunk selfies or mindless Twitter rants. I get it. But guess what? Princess Eugenie of York, Prince Harry and Prince William's cousin, has an Instagram. Record scratch. What the what? How is that possible? How is that fair? I don't understand why Meghan Markle can't have an Instagram if Princess Eugenie can. Apparently, it's because there are more rules that Markle has to follow than Princess Eugenie does, meaning it doesn't look like she'll be reactivating her account anytime soon. Elite Daily reached out to Kensington Palace regarding the unspoken social media rule, but did not hear back by the time of publication.
According to The Express, the reason Princess Eugenie can post on Insta is that she has an entirely different royal status than Meghan Markle. The website claims that Princess Eugenie is allowed to have an Instagram because she and her sister Princess Beatrice "are not working royals, and this is illustrated by the fact they are not listed on the royal.uk website."
The site goes on to explain that both Eugenie and her sister, Princess Beatrice, do not attend royal engagements for any official reason:
While Princess Eugenie has a job at an art gallery and works full-time – just like Princess Beatrice – she does not fulfill royal engagements in an official capacity.
So basically, there are different levels of royalty, and the level that Markle is now on makes her ineligible to have any form of social media.
Back in January when Markle deleted her social media accounts, a source told People that the reason was that she was simply no longer an active user:
Ms. Markle is grateful to everyone who has followed her social media accounts over the years ... However as she has not used them for some time she has taken the decision to close them.
Of course, it seems like less of a coincidence and more like an unspoken agreement that, as she was preparing for royalty, she had to do away with her Instagram and Twitter. People noted that Markle's departure from social media wasn't "entirely unexpected," noting that "it's an unspoken rule that the royal family isn't on social media... very few senior British royals have social media accounts of their own, so Meghan would have been quite the outlier had she kept hers up and running."
I know it's not fair that we can no longer double-tap a photo of Markle's extraordinary foodie pics, or comment on an adorable photo of her dog, or swoon over the selfies of Markle looking generally exceptional, but always remember that you can head to Kensington Palace's Twitter account for any Meghan Markle news, as its bio says that it's "the official account of The Duke and Duchess of Cambridge, The Duke and Duchess of Sussex and their Royal Foundation, based at Kensington Palace." Look, I know it's not much, but let's just work with what we've got, OK?
Markle didn't only have to say goodbye to her Instagram and Twitter, though — she also ran a lifestyle website called The Tig, which was shut down almost a year ago after its creation in 2014. Her farewell announcement on the website read:
After close to three beautiful years on this adventure with you, it's time to say goodbye to The Tig. What began as a passion project (my little engine that could) evolved into an amazing community of inspiration, support, fun and frivolity. You've made my days brighter and filled this experience with so much joy. Keep finding those Tig moments of discovery, keep laughing and taking risks, and keep being "the change you wish to see in the world.
How do I feel about this? Not great.
But hey, I guess it's a small price to pay for becoming British royalty.