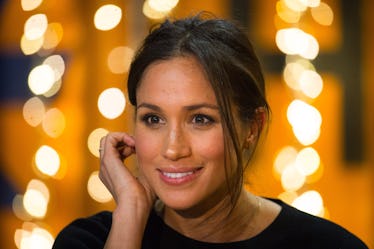 Meghan Markle Deleted Her Social Media Accounts & We're Heartbroken
WPA Pool/Getty Images Entertainment/Getty Images
2018 was looking so, so bright. With 2017 behind us, we could start over and make this year our best one yet. We had so much to look forward to! Like, you know, the marriage of Prince Harry and Meghan Markle. If you're like me, you are constantly checking out Markle's social feeds for any hints or clues of what's to come for the royal wedding. Except now there is just this tiny little issue: Meghan Markle deleted her social media accounts, so now we can all just quit 2018 because this is not fair. Why are you doing this to us, Meghan? Why have you deleted all of your amazing posts that showed us things like you traveling all around the world, your drool-worthy meals, and, most importantly, your rescue dogs?
According to People, a source tells the magazine that Markle deleted her accounts because she's no longer active on them:
Ms. Markle is grateful to everyone who has followed her social media accounts over the years ... However as she has not used them for some time she has taken the decision to close them.
You're telling me that the woman about to become British royalty decided to conveniently delete her social media accounts because they're no longer relevant to her anymore?
I'm thinking that this isn't exactly the full story. Isn't it true that Prince Harry doesn't have any social media accounts of his own? And neither does Prince William or — shocker — Kate Middleton. Maybe this is less about Markle wanting to delete her accounts based on her own personal preference and more about the fact that modern day royals seem to keep very much to themselves when it comes to any social channels.
There's no exact written rule that says royalty aren't allowed to have any social media accounts, so trying to find any definitive answers will sort of make you feel like Charlie on that unforgettable episode of It's Always Sunny in Philadelphia:
You're going to hit a dead end, my friend.
And while Markle is breaking traditions left and right (she's choosing to have a maid of honor at her wedding, which is apparently "not a thing" at royal weddings), maybe deleting her social media was her way of saying, "See, future in-laws? I'm making this sacrifice for you."
Which, if I'm being honest, is so very sweet of her but makes me so very sad.
When searching for Markle's page on Instagram, all you see is a sad, blank page that looks like this:
And when you try to search for her on Twitter, all you see is a notification that Meghan Markle's account is non-existent:
If you feel like being even more sad, the last thing we saw on Markle's Instagram feed was her announcing the shut-down of her website, The Tig, which was created in 2014 and focused on all things lifestyle. Her farewell announcement on the website read:
After close to three beautiful years on this adventure with you, it's time to say goodbye to The Tig. What began as a passion project (my little engine that could) evolved into an amazing community of inspiration, support, fun and frivolity. You've made my days brighter and filled this experience with so much joy. Keep finding those Tig moments of discovery, keep laughing and taking risks, and keep being "the change you wish to see in the world."
But like, why is this happening to me?
Even though Markle is no longer on social media (sob), she's still completely relatable and we should just try and grasp onto that comforting notion. So the next time you think that Markle has gotten *too* royal, just remember that she wears her hair in a messy bun and sometimes buys clothes that the average woman can afford — and, whether she's on social media or not, will always be my spirit animal.