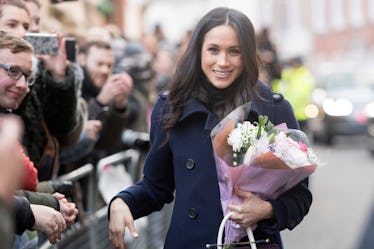 This Video of Meghan Markle Giving Fashion Advice Proves Her Style Hasn't Changed
WPA Pool/Getty Images Entertainment/Getty Images
Before the royal engagement took place, many of you were probably asking, "Meghan who?" By now, Meghan Markle is all that anyone can talk about. I myself want to be just like the commoner-turned-noble, and never more than after watching this video of Meghan Markle giving fashion advice. Her tips are so relatable and down-to-earth, they're giving me serious shopping inspo.
I almost don't want to think about the perks that come with marrying into the British royal family, because I will spiral into a pit of depression thinking about my average, plebeian life. Apparently, Queen Elizabeth has a staff member break in her new shoes which means she never has to suffer through a blister, ever. Oh to be the queen. However, being a royal also comes with plenty of rules to follow, even strict fashion protocol. Imagine never being able to wear red nail polish, or your favorite wedges whenever the queen is around. Is it worth being a royal if you have to give those up? Actually, probably.
Meghan Markle is new to such rules, and until now, has been living her life like an American commoner (as much as any famous actress can). Markle used to be a frequent guest on the Today show, offering up fashion advice for non-royals to follow, and her tips are surprisingly approachable. I've already laid out Markle's amazingly cheap beauty routine for you, so now let's dig into her fashion guide.
Markle is a woman of many hats - which is good since the British like their hats. In addition to acting, Markle used to run a lifestyle blog called The Tig and appear on Today with Savannah Guthrie to chat about her best fashion tips. Lucky for us, Today put together a bloody brilliant montage of Markle's best moments on the show.
In her BH (Before Harry) era, Markle taught viewers how to get runway looks for less, make chunky winter sweaters look chic, and generally dress well all year round on a non-royal budget.
Prince Harry's fiancée talked about how to slay in a rather thick-knit sweater, advising the audience to pair it with a fitted skirt. "The skirt has a nice fitted silhouette if you have that chunkiness [in the sweater], she still has it tucked in just a little bit to give her a shape," said Markle.
Markle also showcased fun fall fashions, and advocated for wearing the same pieces over and over in different ensembles.
The former Suits actress schooled us all by showing how to get multiple outfits out of a velvet suit. "You can break this up: put the velvet blazer with some nice jeans," she suggested.
Markle also explained how to accessorize like a pro with a black belt over a three quarter length-sleeved dress. "[The belt] does give you a nice waistline. It just adds an interesting accessory — she is on trend as can be!"
I'm noticing something else interesting about this particular clip, though. Anyone else picking up on it?
Does Markle's outfit ring any bells?
How about now?
Markle wore the first look during one of her Today segments on Feb. 16, 2015, and the second look on Dec. 1, 2017, nearly two years later. Both outfits involve a long sleeve, black turtleneck shirt, a khaki maxi skirt, black belt, and black boots! The only major difference between the getups is the belts, 2015 saw Markle in a much wider belt, 2017 in a skinny belt. Of course, 2017 Markle also has bit more sparkle due to her swoon-worthy engagement ring.
Diamond ring aside, Markle clearly boasts the same down-to-earth style she always has. While some of her fashion choices may have to change after her wedding to Prince Harry, these video clips prove that she is just an American girl, standing in front of the world, asking us to love her. Well, Meghan, we do, we really do.