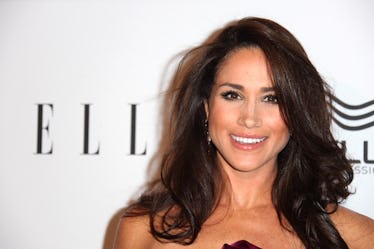 Meghan Markle Uses This $20 Powder On Her Incredible Skin, So You Can Look Like A Princess Too
Tommaso Boddi/Getty Images Entertainment/Getty Images
Doesn't everybody just want to be famous and have all the perks that come with fame? I do. Following a celebrity's beauty routine is one of the best ways to start feeling like an A-lister, and in this case, royalty. Luckily for all of us, royal-in-waiting Meghan Markle's beauty routine isn't ridiculously expensive. Score one for the commoners.
Markle, an actress best known for her role on USA's Suits, is retiring from the show because Prince Harry, you know, British royalty Prince Harry, just proposed to her. And because Markle is not suffering from some sort of brain damage, she of course said yes. Naturally, she is my newest celebrity obsession and I need to know how to live my life exactly like hers. Her beauty routine should get me looking bloody brilliant, and hopefully I'll be on my way to meeting a prince. I'd even be okay with a duke. No duke, either? Can a girl get an earl around here?
While I wait around aimlessly for my prince/duke/earl to come (JK, I'm a pro fashion stylist and writer), I'll get started on learning Markle's surprisingly affordable beauty routine. Prince Harry, if things don't work out between you two, feel free to slide into my DMs.
Make Up For Ever Ultra HD Microfinishing Loose Powder
$20, Sephora
Markle swears by this finishing powder that only costs $20! She wears it while filming under hi-def cameras, so you know it gets the job done. A finishing powder goes on top of all your other makeup, or you can wear it alone to absorb oil. Markle has raved about the product, saying, "It lets your skin look shiny and fresh, but not greasy-shiny." Because it's a sheer powder, it works for every single skin tone out there.
ChapStick Total Hydration 3 in 1 Soothing Vanilla Lip Balm
$3, Target
When Markle is not filming, which she won't be doing much of anymore, she often wears what she has dubbed her "five-minute face." Markle skips foundation and instead simply uses Yves Saint Laurent Touché Eclat Radiance Perfecting Pen ($42; sephora.com) to cover any what I can only assume are barely-there shadows and blemishes. She also applies her favorite blush of the moment, NARS Blush in Orgasm ($30, sephora.com). Lastly, Markle swipes on ChapStick, but the future nobility doesn't specify which particular balm she favors. I, a woman of zero aristocracy for the foreseeable future, prefer this three-in-one Vanilla scented stick.
Shu Uemura Eyelash Curler
$21, Shuuemura
An eyelash curler is also part of Markle's five-minute face, and she says Shu Uemura's "makes you look instantly awake." I'm very much into any product that can make me feel, or at least look more awake. Markle finishes her off-duty look with Dior Diorshow Iconic Overcurl Mascara ($30, sephora), a seriously amazing mascara for a seriously amazing woman.
Bioré Daily Cleansing Cloths
$8, Target
Even celebrities and royalty need to take off their makeup at the end of the day. Markle doesn't need anything fancy to get the job done, she relies on these deep-cleansing Bioré wipes, which you can find at any drugstore. "They're great to keep in the car and on your nightstand when you have those horribly lazy nights that the thought of getting up to actually wash your face seems unbearable," Markle told Beauty Banter. Girl, I've been there. Could she be any more real?
Nivea Q10 Skin Firming Hydration Body Lotion
$8, Amazon
Markle's last, and still totally relatable, must-have product is another clutch drugstore find. "I use this religiously. It's honestly my favorite lotion on the market, it's so affordable, and makes my skin look and feel amazing. I would buy a case of this at a time if I could find it," said the royal in waiting. Can I reiterate how refreshing it is to hear that someone from the one percent trusts such affordable products, especially a princess-to-be? Love you already, Meghan.