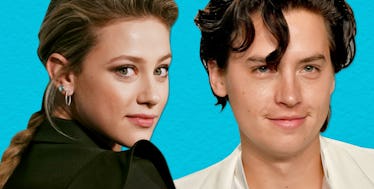 These 15 Celeb Couples Broke Up & Still Had To Work Together, So That's Awk
Getty Images
Is there anything more exciting than when two of your favorite characters from a film or show start dating IRL? There is certainly no shortage of on-screen turned off-screen romances, but the reality is, not all of them are built to last. That's why there are so many celebrity couples who broke up and still had to work together, which TBH, sounds like my worst nightmare. I mean, random run-ins with an ex are brutal enough — but having to make out on set or film a wedding scene together? That's a whole other world of awk.
It totally makes sense why these relationships sparked to begin with. Finding love on the set of a TV show, movie, or music video isn't all that surprising when you consider that actors and musicians work so closely with one another, often bonding in a profound way through the creative process. Sometimes, those relationships work out. Eva Mendes and Ryan Gosling, for example, met on the set of The Place Beyond the Pines in 2012 and are still going strong. Blake Lively and Ryan Reynolds met on the set of The Green Hornet in 2010, and while the film wasn't a smash success, their romance definitely was — they tied the knot in 2012.
Sometimes, however, these relationships don't quite pan out, and mixing business with pleasure in Hollywood means there's always a chance you have to work alongside your ex at some point. (Who could forget Bella Hadid and The Weeknd's encounter on the runway at the Victoria's Secret Fashion Show?) As they say, the show must go on — at least that was the case for these celebs.