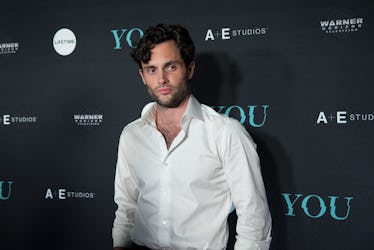 This Brief History Of Everyone Penn Badgley Has Reportedly Dated Will Make 'You' Nostalgic
Mike Pont/Getty Images Entertainment/Getty Images
The breakout show of winter 2019, Lifetime-turned-Netflix's You, has literally everyone talking. Seriously, even my mom asked about it the other day, and she only ever watches Blue Bloods, so obviously it's a hit. The star of the show, Penn Badgley, may play murderous stalker Joe Goldberg, but his charm and cute smile still have viewers swooning. (Yes, even though he plays a murderous stalker. I don't know what to tell you.) Considering Badgley's own good looks and way with the ladies, this isn't too surprising. If you're curious about Penn Badgley's dating history, then you're not the only one, and you're definitely in for a treat.
Most people will recognize Badgley from his six-year stint as Dan Humphrey on Gossip Girl. The show definitely made Badgley a household name, and his roles in teen comedies Easy A and John Tucker Must Die cemented his position as a certified heartthrob. Badgley's dating history is certainly proof of that, as he's reportedly dated some of Hollywood's most gorgeous and talented ladies.
Now, Badgley is happily married, but looking back at everyone he's dated shows just how long the 32-year-old has been searching for love. So, let's talk a walk down memory lane, shall we?