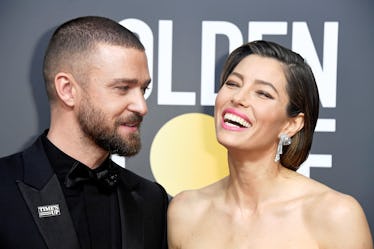 These Photos Of Justin Timberlake & Jessica Biel Will Make You Smile So Hard
Frazer Harrison/Getty Images Entertainment/Getty Images
Let's have a moment of appreciation for Justin Timberlake and Jessica Biel, shall we? The former N*SYNC star, who will be playing in the Super Bowl halftime show on Feb. 4, 2018, has been married to the actress for five years, and they have been together for 11. Judging from the photos of Justin Timberlake and Jessica Biel, the couple has a strong marriage. Just looking at how happy they seem makes it evident that the two of them are best friends who enjoy spending life together. They're good parents to their children, enjoy the outdoors, and even slow dance in the middle of New York. I don't know if I've ever heard of a more wholesome-sounding celebrity romance.
Prior to looking through their Instagram feed, I thought that Justin Timberlake hadn't been romantically relevant since he and Britney Spears wore matching denim outfits to the American Music Awards in 2001. Not to say that "Cry Me A River" isn't still an all-time love power ballad, but it's cool to see that Timberlake and Biel have developed a romance that, by all accounts, just seems really, really cute and really, really grown up.
I mean, what's more adorable than getting all gussied up and snapping a cute selfie for the 'gram?
So you can be together for over 10n years and still be happy in one another's presence? Amazing.
Here they are after the 2018 Golden Globes. Justin Timberlake is giving Biel a piggy back ride, for goodness sake. I'm squirming.
According to Us Weekly, the couple is on a more solid foundation than ever with the birth of their son, Silas, in 2015. In the past, their marriage had been disrupted. Sources claimed to Us Weekly that Timberlake reportedly cheated on Biel with the actress Olivia Munn in 2015. But having a child, apparently, turned things around.
"He loves being a dad and a family man more than he ever thought," a source close to the couple claimed to Us Weekly.
On her Instagram, Jessica Biel has definitely voiced her appreciation for the parental role Justin plays.
In interviews, it sounds like Jessica makes an amazing mom herself. She shared her extremely relatable thoughts to People:
You think you're a selfless person, and then you realize you're not ... These little people come around, and they require so much, and your schedule is really not your own … and it's very clear that it's your life now revolving around this dude.
Let's not forget the fact that the Timberlake-Biel family coordinates their outfits together every single Halloween. Here's them in 2016:
Anyone else feel a little bit resentful of those couples who seem to effortlessly coordinate a cute and unique costume ensemble every year, or is it just me? In any case, Jessica and Justin are definitely that couple at the Halloween party.
Here they are, one year later, looking equally as adorable as a family of troll dolls:
Even when putting on costumes is not in season, Justin and Jessica seem to have a lot of fun dressing up together. But not so dressed up that they can't be down to earth, too...
Here's Biel chowing down after the Oscars.
I mean, seriously, who doesn't get hungry after going to a party? I don't think I could feel more same. And Justin's even holding up her cape thing for her. See, this is the kind of special treatment that every lady might not need, but definitely deserves.
Biel recently posted a picture to celebrate beating her husband at a Scrabble game.
Not to overwhelm you with the cuteness, but it looks like Timberlake and Biel are not only classy, but enjoy brain benders, too.
No matter who kicks whose butt at Scrabble, it seems that, for this happy couple, being together is a win-win.
Check out the entire Gen Why series and other videos on Facebook and the Bustle app across Apple TV, Roku, and Amazon Fire TV.
Check out the "Best of Elite Daily" stream in the Bustle App for more stories just like this!