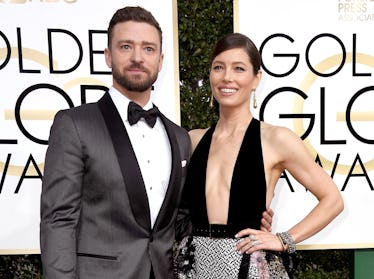 These Photos of Justin Timberlake & Jessica Biel's Son, Silas, Are Too Cute For Words
Frazer Harrison/Getty Images Entertainment/Getty Images
I love celebrity babies as much as the next girl, but there are a few who stand out in my mind. George and Amal Clooney's twins. Blake Lively and Ryan Reynold's daughters. And, my personal fave, Silas Timberlake, Justin Timberlake and Jessica Biel's son. I love that we know about him, but they keep him out of the limelight, so that he can grow up to be —gasp — normal. Personally, I applaud anyone in Hollywood who fights to keep their children away from paparazzi and media, so bravo, Justin and Jess, you're doing it right. While we don't see him in the press, we're blessed to see photos of Justin Timberlake and Jessica Biel's son Silas on their social media accounts. And guess what? He's freakin' adorable. Come on, like having the genes of two gorgeous celebrities as parents would lead to any other outcome? I think not.
It's pretty obvious that Timberlake and Biel adore being parents, too. In an interview with Today, Justin Timberlake revealed that parenthood "changes everything." He said,
They teach you ... It's crazy. ... Watching him learn things, this new appreciation for both of them — you know, her and him — and so it's humiliating, and it's humbling at the same time.
Biel shared her thoughts on motherhood to People, making moms everywhere go, "Same." She said,
You think you're a selfless person, and then you realize you're not ... These little people come around, and they require so much, and your schedule is really not your own … and it's very clear that it's your life now revolving around this dude.
She added, "I'm not that person who feels like, 'Oh, my whole life changes for my kid,' but it does."
Preach.
But clearly, all the work it takes to keep a little human happy is totally worth it, and based off these photos of Justin and Jessica's son below, I'd say they're doing a pretty good job at nailing this whole parenting thing.
Look, I'm not saying it's imperative that your family dress up as one uniform theme for Halloween, but I am saying that you will earn countless compliments and gain impressive looks by everyone you pass while trick-or-treating.
Just look at the family's costumes in 2016:
Yep, that's Branch and Poppy — and an even tinier Branch — from the movie, Trolls.
If you thought 2016 was epic, then take a look at their 2017 costumes:
Yep. That's Buzz, Woody, and Jessie from Toy Story and my heart is literally about to burst.
If you thought that was cute, prepare to melt into a puddle when you see this adorable throwback of lil' Silas and one happy mama, Jessica Biel:
Those blue eyes! That little cheeky smile! The peach fuzz hair! It's all so precious.
How about a little throwback action involving J.T., since dads are just as important as moms:
World, are you seeing this? I mean, I'd love my dad, too, if he wrote an album inspired by me. (PSA: I love my dad regardless of the fact that he's not a pop singer.)
Silas' little onesie shows his unconditional love for papa Timberlake and all, but I know what you're thinking: "What about mom?"
Well:
I can't stop, you guys. Send help.
Before I go into cuteness overload, I just have to share one more thing with you.
Back in 2015, Justin Timberlake went on The Tonight Show and chatted with Jimmy Fallon about being a father, calling it "the most insanely amazing, most beautiful, unbelievable thing that can ever happen to you," and he. Brought. Family. Photos. Fallon took to Twitter to share some of the pictures, and I promise that you will lose your damn mind:
That's it. Silas Randall Timberlake wins at life.
The end.