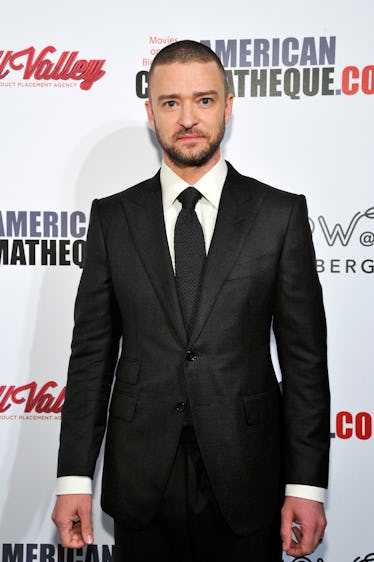 Justin Timberlake Revealed His Album Is Named After His Son & The Story Is Adorable
John Sciulli/Getty Images Entertainment/Getty Images
You know you've reached peak Dad-level when you can dedicate an entire music album to your son. If you're wondering how that even works, just ask Justin Timberlake, who revealed a pretty adorable story about the meaning behind his new album, Man of the Woods — and it's all about his son, Silas. Oh, don't mind me, just quietly crying at my desk right now.
When Timberlake took to social media to let the world know that he'd be releasing "Filthy," his first single since "Can't Stop The Feeling," fans were pretty damn excited. And when he announced that his album, Man of the Woods, would be dropping on Feb. 2 (just days before his Super Bowl Halftime Performance, NBD), people were like, "Can life get any better?" But because we're talking about Justin freaking Timberlake, of course it gets better.
Timberlake gifted us all with a teaser video that was just a little taste of what we could expect for his newest album. In the video, we see a ~thought-provoking~ J.T. looking deep and pensive. He's running through the meadows, he's kissing a smokin' Jessica Biel, and he's wading around in a river with his clothes on (?). It's a side of Justin we haven't really seen before. In the teaser, he talks about the inspiration behind Man of the Woods. He says,
This album is really inspired by my son, my wife, my family, but more so than any album I've ever written, where I'm from. And it's personal.
You can watch the video here (and fan yourself when you see a shirtless Timberlake cradling what could only be his son, Silas):
But how did he decide on the name for his newest album? I mean, based off this video, you'd assume that maybe Timberlake himself is the man of the woods, considering he's running around amongst the trees like he owns the forest in the teaser.
But, nope!
In an interview with Beats 1 Radio Show, Timberlake revealed that his son's name has everything to do with the title of his album, Man of the Woods. He said,
I literally just went on Google like, 'meaning of the name Silas,' and it sent me to this to this site and it said, 'of Latin origin, meaning 'Man of the woods,' ... I was like, 'How serendipitous that my last is Timberlake,' like what does that mean?
It means that you just got yourself an adorable baby name and a kickass album name, Justin, and that's cause for celebration.
In the interview, Timberlake was also asked if him and his wife, Jessica Biel (AKA my ultimate girl crush) planned on having more children. He said,
I mean, I want to have as many as we can, if I'm being honest.
Justin, just throwing it out there, but if Jessica Biel doesn't want any more kids, I might know a few people who would be willing to step in and help you out.
Me and everyone else, TBH.
But it seems like Biel and Timberlake are on the same page, and in an interview with Marie Claire, Biel was incredibly candid about how her and Timberlake make their marriage work. She said,
We have similar values; we believe in loyalty, honesty. We like to have fun. We like a lot of the same things. Also, in the business, we're all very career-oriented, and you have to be a little selfish. I understand that about my peers—about being focused and driven—and if you can find that and someone who shares the same values as you, it's like: Score!
I'm sure practicing making babies doesn't hurt, either.
So, there you have it, folks. Justin Timberlake proves that he can be both a pop icon and a family man — and, of course, every '90s school-girl crush. Yep, I gladly admit falling into that last category myself.
'NSYNC 4-Eva.