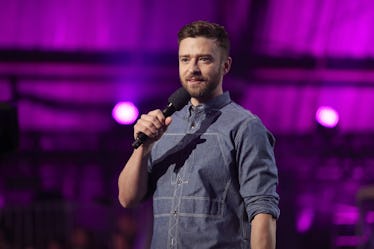 This Inside Look At Justin Timberlake's Super Bowl Performance Will Get You So Pumped
Christopher Polk/Getty Images Entertainment/Getty Images
Justin Timberlake fans, have I got something special for you. For all you halftime watchers, the NFL announced on Sunday, Oct. 22, that Justin Timberlake would be headlining the Super Bowl LII Halftime Show, which is fan-freaking-tastic because he is one hell of a performer. Plus, he's got new music out, which means that you better believe he's got new moves. And now, we have a behind-the-scenes video of Justin Timberlake's Super Bowl Halftime performance and it will leave you AMPED.
Do I follow football? No, of course not. Do I care about the Super Bowl? To be honest, not really. Do I look forward to the Super Bowl Halftime Show? You bet your ass I do. So when the National Football League was playing coy about which artist they were choosing to perform, I started getting restless. Could it be Beyoncé? Katy Perry? Bruno Mars? GIVE US ANSWERS. In a statement made to ET, the NFL said,
No decisions have been made on the performer(s) and we are not going to speculate on particular artists. Along with Pepsi, we know that we will put on a spectacular show. When it is time to announce her name we will do it. Or his name. Or their names.
When it was finally confirmed that Justin Timberlake would be performing the Halftime Show, people had feelings. My personal sentiments resembled something like this:
It was great news.
And we have something even greater than a measly statement. We have a two-minute video that features all-things Justin and it is GOLD. In the video, we get to see a behind-the-scenes look at J.T. preparing for this year's Pepsi Super Bowl LII Halftime Show and you guys, it is a journey. The video starts off with a lovely little collage of Timberlake's most-loved music videos, which is kind of sentimental (remember "Cry Me A River"?), but then, at about a minute in, sh*t starts getting real.
We see some stealthy-looking black cars pull up to "Reserved Parking," and we see Justin and his crew hop out, looking cool AF. Then, Timberlake takes the Superbowl stage, where we get to see his point of view (oh, hello, those thousands of seats don't look at all intimidating from where he's standing). In the video, he says,
I am getting an opportunity to have the stage to myself. I really am looking at it as my first time ... I believe it's also the place where there's nothing wrong with giving people what they want. My biggest challenge is, what is my fingerprint on that show come February 4?
He ends the video by saying, "For 12 or 13 minutes, we're going to have a really good time."
BRB, fanning myself.
You can watch the whole glorious video below. I recommend playing it on repeat a few times — not because there are hidden easter eggs in the video or anything, but because Justin Timberlake is just so, so beautiful:
While we can't be sure what songs Timberlake will bless us with on stage, I have no doubt that they're going to be accompanied by some excellent dance moves. If it's anything like his "Filthy" music video, we're in for quite a futuristic robot dance party.
Work it, J.T.
Timberlake is off to a pretty great year: he released "Filthy" on Jan. 5, which was his first single since "Can't Stop The Feeling," so yeah, pretty big deal. He also announced that his album, Man of the Woods, will be dropping on Feb. 2 (yep, just days before the Super Bowl). But wait, there's more! Timberlake also announced that his Man of the Woods Tour will begin on March 13. New music, new moves, new album, new tour, and a Halftime Show performance?
Guess that's just all in a day's work for Justin.