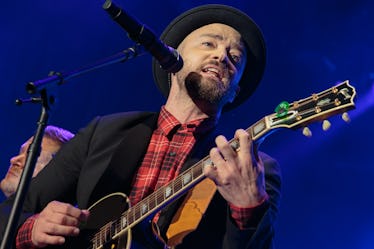 Justin Timberlake Is Headlining The Super Bowl Halftime Show & People Aren't Happy
SUZANNE CORDEIRO/AFP/Getty Images
The NFL announced on Sunday, Oct. 22 the headliner for its Super Bowl LII Halftime Show, and that performer is none other than Justin Timberlake. Rumors that Justin Timberlake's 2018 Super Bowl halftime performance was going to be a thing had been going around for a while ahead of Sunday's announcement, but lots of people on Twitter weren't too excited about the big reveal. And now that it's confirmed, fans on Twitter still aren't pleased. Sure, the possibility of an *NSYNC reunion at the Super Bowl makes the 10 year old in me go wild, but tweets about Timberlake's Super Bowl 2018 performance stem from people who are pissed because Janet Jackson has never been welcomed back to the Super Bowl due to her infamous costume malfunction — you remember, the one that happened when they performed together during the 2004 halftime show. Elite Daily reached out to Timberlake's team for comment, but did not hear back by time of publication.
Update: According to TMZ, the NFL has clarified that "there's no ban" against Janet Jackson for a Super Bowl performance. So, will she take the stage with Timberlake? An NFL spokesperson told TMZ, "We are not going to comment on any speculation regarding potential guests. There may be no guests. Along with Pepsi, we're excited to have Justin Timberlake."
Earlier: In case you forgot, or are too young to remember, Jackson and Timberlake performed at the 2004 Super Bowl Halftime Show together. At one point during the performance, Timberlake was supposed to rip off part of Jackson's costume. He ended up ripping off more than he was supposed to, exposing one of Jackson's breasts on live TV. Following the performance, Jackson was banned from the 2004 Grammys, where she was supposed to introduce the Luther Vandross tribute.
On Oct. 22, Timberlake posted on Instagram and Twitter confirming the news that he's performing at the Super Bowl.
Some people on Twitter are less than excited about this news.
It's important to note that there's no official word that Jackson was actually banned by the NFL from the Super Bowl show, but she has not been welcomed back since the incident. Elite Daily also reached out to the NFL about why Jackson hasn't been invited back to the show, but did not hear back by the time of publication. Timberlake also never issued a public apology to Jackson. So, it's understandable why people are pissed about this. There's an obvious double standard between men and women that allows men to be forgiven for their mistakes where women are continuously vilified for theirs. It's pretty much the theme of 2016/2017/life in general. And it's frustrating as hell.
Lots of people are calling for Timberlake to bring Jackson on stage during his performance to make things right.
But seeing as this has been a crap year that just refuses to quit, that probably won't happen.
Back in September, when rumors were running rampant that Timberlake was in final talks to headline the halftime show, the NFL said in a statement to Entertainment Tonight,
No decisions have been made on the performer(s) and we are not going to speculate on particular artists. Along with Pepsi, we know that we will put on a spectacular show. When it is time to announce her name we will do it. Or his name. Or their names.
A source told ET, however, that the NFL had wanted Timberlake to perform for a while and were, indeed, in final negotiations with the former *NSYNC member. The source said, "This is who they've wanted for a long time. He's the guy."
People were pissed about it then, too.
Jackson ended up having to take on most of the blame following the incident. That blame included being banned from the 2004 Grammys.
CBS aired both the Super Bowl and the Grammys that year and reportedly canceled Jackson's invitation to the award show following the incident at the Super Bowl. In a televised apology, Jackson said, "I am really sorry if I offended anyone. That was truly not my intention."
Jackson and Timberlake were performing Timberlake's song "Rock Your Body" when the wardrobe malfunction happened. The reported plan was for Timberlake to rip off only one part of Jackson's costume to reveal a red bra, but he seemed to pull on the wrong parts of the costume and ended up exposing Jackson's breast. Since the show was broadcast live, there was no way for the Super Bowl producers to edit out the moment fast enough. This resulted in the Federal Communications Commission instilling a five-second broadcast delay for all live televised performances.
Following the news of Timberlake's 2018 performance, there has been no word yet from Jackson on the NFL's recent announcement.