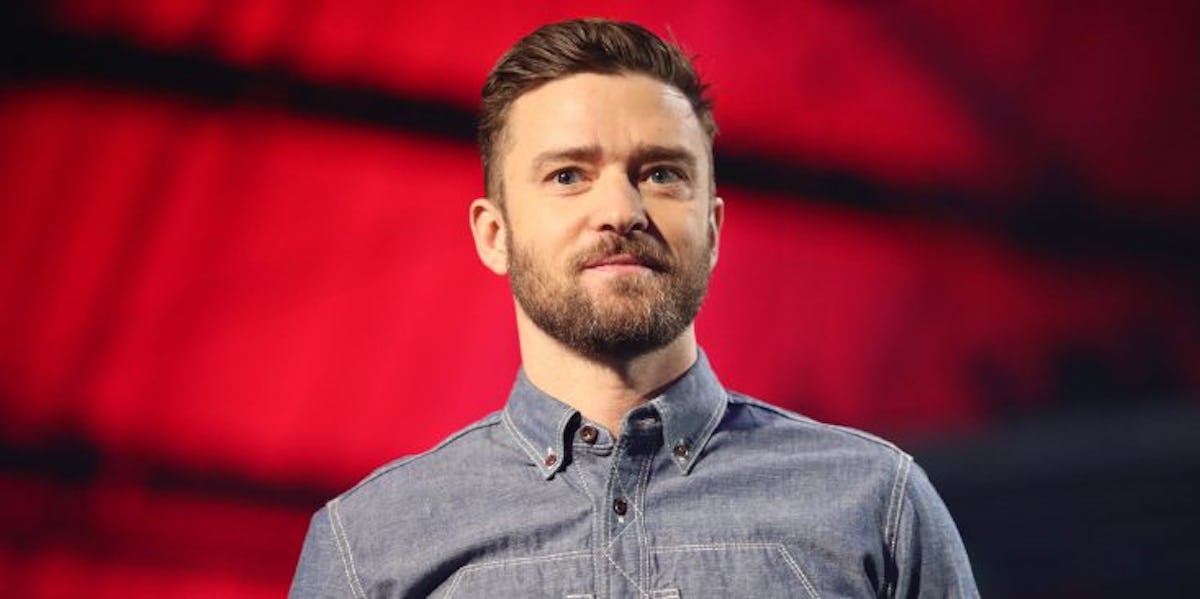 Justin Timberlake May Perform At The Super Bowl And Fans Are Here For It
Getty Images/Christopher Polk
I can say with certainty that I don't care about football. The teams, the scores, the players — I'm so not interested. Unpopular opinion? Maybe, but I'm at my computer and you're at yours SO HAHA. What I do care about a lot is the Super Bowl halftime show. It's 20-ish minutes of pure over-the-top entertainment and I'm all about it every year. The Super Bowl is actually just an excuse to eat nachos and watch a quick concert for me. That's why it's exciting that this year people are wondering if Justin Timberlake is performing at the Super Bowl.
ET Online announced that a recent report proposed that Timberlake is in final negotiations to headline Super Bowl LII (that's 52, guys). The National Football League has not confirmed that they have chosen an artist. A statement made to ET said,
No decisions have been made on the performer(s) and we are not going to speculate on particular artists. Along with Pepsi, we know that we will put on a spectacular show. When it is time to announce her name we will do it. Or his name. Or their names.
Their names? Hmmmm... I like the idea of that although it will be hard to top the Beyoncé, Bruno Mars, and Coldplay mash-up performance during the 2016 Super Bowl.
On the other hand, a source is also telling ET that Timberlake is actually putting the finishing touches on a deal that would solidify him as the halftime performer in Minneapolis on Sunday, Feb. 4. The source revealed,
This is who they've wanted for a long time ... He's the guy.
The source made sure to add that Timberlake and his team have not started conceptualizing ideas for the big performance.
One person who has endorsed Timberlake as the possible Super Bowl performer is Dallas Cowboys quarterback, Tony Romo. He said,
Oh, I love Justin, I think he's a great guy. I think if they got Justin, it would be a home run. I think he's one of the rare guys that everyone thinks is great and he's super talented.
There's one person who's rooting for him. Timberlake would be a controversial choice since he performed at the Super Bowl in 2004 with Janet Jackson. I'm sure "nipplegate" rings a bell. Due to a wardrobe malfunction, Timberlake accidentally exposed Jackson's entire breast at the end of a steamy performance to "Rock Your Body."
Honestly, the true crime of the night was that Beyoncé was only slotted to sing "The Star-Spangled Banner." WHAT THE HELL IS THAT ABOUT?
We all love Justin Timberlake's music, that's a no-brainer. I mean, who hasn't enjoyed "Can't Stop The Feeling" or "Suit And Tie" a few times? However, Twitter has some strong opinions about the double standard Timberlake's performance would create. More specifically, why Timberlake would be invited back to perform while Jackson remains blacklisted.
Those are all good points, but it's important to keep in mind that nothing has been officially announced yet. I'm just not sure how they're going to top Lady Gaga's Super Bowl performance last year.
She basically came down from the heavens as a mystical beautiful alien. She was standing on the roof with the wind blowing her hair as she sang "God Bless America" and "This Land Is Your Land" while 300 Intel drones created the American flag in the sky. Somehow she still had the energy to put on a 13-minute performance that was so high-energy I think the entire arena was dancing.
In true Gaga fashion, she ended the performance by jumping off a huge platform and disappearing into oblivion. LADY GAGA CAN DO ANYTHING.
We don't know for sure who will be the halftime performer at Super Bowl LII, but whoever it is will definitely have large pop-star shoes to fill.
Check out the entire Gen Why series and other videos on Facebook and the Bustle app across Apple TV, Roku, and Amazon Fire TV.